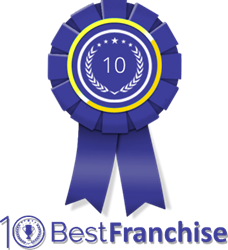 ST LOUIS, Mo. (PRWEB) August 22, 2016
10 Best Franchise, a leading site that provides information about top-rated corporate franchise opportunities throughout the world, has developed a new Best Franchise Opportunities award that salutes the excellence of the top three franchises in the world. The monthly award, issued for August, ranked H&R Block as the leading franchise. The second-place award goes to the Hardee's franchise, and Circle K is the recipient of the third-place position for the top franchise opportunity.
The representatives of this top franchise site are excited about the contributions of the companies who were selected as the first recipients of the Best Franchise Opportunities Award. Each of the franchises are in different industries, but they have made an incredible impact on the franchise industry as a whole.
Located in Kansas City, H&R Block is one of the most widely-recognized tax preparation companies in the world. It is also at the top of the list of leading franchise opportunities that have been ranked by 10 Best Franchise. This top tax franchise has over 12,000 retail locations in India, the United States, Canada, Brazil and Australia. H&R Block provides a potentially profitable franchise opportunity due to its strong brand that began in 1955. Franchisees enjoy a low start-up cost, flexible work schedules and the ability to have a positive impact on the lives of individuals, small businesses and corporations.
Top franchise Hardee's has been serving up delicious fare to its customers since 1960. Throughout the years, this corporation has developed into a strong brand as a result of the customer service provided by its first restaurant in St. Louis. A Hardee's franchise opportunity is attractive to aspiring franchisees because this restaurant sells food that appeal to customers of all ages. From chicken to burgers, Hardee's can satisfy the various taste buds of entire families. The Hardee's Corporation has proven strategies in place to support the growth of new franchisees.
Leading franchise Circle K is a convenience store brand that has over 10,000 locations throughout the world. As an international brand, Circle K has franchise opportunities for budding franchisees to open international locations. This franchise provides training and workshops to help franchisees develop a competitive edge in the industry.
The recipients of these top franchise awards are ranked according to various qualitative and quantitative criteria such as online research, analytic reviews, customer service reviews, accolades, website traffic and internal research.
For more information about this month's winners, visit http://www.10bestfranchise.com.