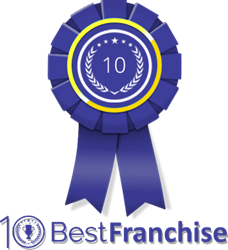 Kansas City, MO (PRWEB) May 19, 2016
Recently, 10 Best Franchise ranked the 10 Best Franchise Opportunities for May 2016. Tax Preparation company H&R Block took first place, followed by the fast food chain restaurant Hardee's and the Circle K convenience stores. Also making the list were Blast 825 Pizza, Jani-King, Cinnabon, Great Harvest Bread, Parisi Speed School, 16 Handles, and Wag N' Wash.
The top-ranked company, H&R Block, is a leading franchise based in Kansas City, Missouri. The brand focuses on tax filing, tax planning and various other financial services. Many people turn to H&R Block every year if they do not want to prepare their own taxes or have complex tax problems that they need a professional to handle. Franchise owners get to help people solve various financial issues while making money for themselves as well.
Hardee's, ranked second on 10 Best Franchise's list of best franchise opportunities, is a fast food chain restaurant based in St. Louis, Missouri. They focus on taking time to prepare each meal as it is ordered, and offer a large selection of hamburgers and sandwiches on their menu. One popular item on the menu recently has been the $5 Bag Lunch. The restaurant, which serves breakfast, lunch and dinner, also operates under the name Carl's Jr.
Leading franchise Circle K, which was ranked third place, is a convenience store chain based out of Tempe, Arizona. It provides gas station fill-up services for cars, as well as snacks and drinks for travelers who are on the road. Their customers are often people who commute to work every day in their car or are simply on a trip for business or leisure. The store offers a loyalty program that provides customers savings and free items for points. Circle K sells gift cards as well, and state lottery tickets in most stores.
The 10 franchise opportunities ranked by 10bestfranchise.com is a new monthly award given to companies that have been reviewed based on a large number of statistics. The list is provided to inform prospective business owners on which franchises offer the best opportunities for owning a business.
For more information about this month's award winners, please visit http://www.10bestfranchise.com.