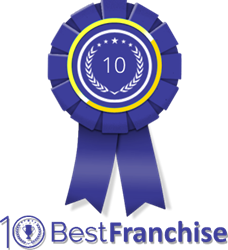 KANSAS CITY, Mo. (PRWEB) September 26, 2016
For September 2016, 10 Best Franchise has named H&R Block, Hardee's and Circle K as three of the top franchise opportunities on the market.
Franchises are one of the best ways for budding entrepreneurs to enter the competitive marketplace. Franchises already have a customer base for the brand, so it isn't as difficult as starting from scratch. In fact, many restauranteurs started off by owning a franchise before they moved on to their passion project. Once a businessman or woman decides to open a franchise, the first thing they determine is the franchise they wish to own. However, there are so many out there, how can they know which is the best option? That is where 10 Best Franchise's monthly awards come in.
The goal of 10 Best Franchise is to keep the current options for the best franchises open to the public. The rankings are determined by a complicated set of algorithms that weigh many factors to find the overall best franchise opportunity. The rankings that 10 Best Franchise produce help to guide businesses in their efforts to identify the best opportunities available. Here is a detailed description of the top three winners for September.
Heading the list of top franchise opportunities is H&R Block. The best franchise opportunities are always going to be businesses with a large, regular client base, and a tax preparation service like H&R Block is always going to have a steady supply of customers. Even though they specialize on tax season, the chain is open year-round for any customers who might need their services. Franchise owners can typically make their own hours when they own an H&R Block.
Leading franchise Hardee's is one of the most popular fast food chains in the entire United States. Hardee's has seen a resurgence in popularity in recent years, which means new franchises are instant cash cows. Running a restaurant chain may seem daunting, but the corporate style of Hardee's makes everything supremely easy.
Another leading franchise is Circle K. Convenience stores like Circle K are starting to become more prevalent as people search for a way to avoid the clutter and crowds of larger grocery stores. Management skills and customer service are the two most important aspects of running a convenience store like Circle K. The brand is well-established and provides a great income source for franchise owners.
For information about the September 2016 winners in this category, please visit http://www.10bestfranchise.com.