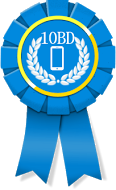 SAN FRANCISCO, Calif. (PRWEB) February 22, 2016
10 Best App is pleased to present the recipients of the Best Health App Award, which salutes the best apps for a variety of sectors within the health industry. According to the selection factors established by the app experts at 10 Best App, Carbodroid Applications has been ranked at the top of the list; Symple Applications receives the award for second place; and Drugs.com Applications takes third place honors.
As the leading health app, Carbodroid Applications is a simple and user-friendly app that helps its users count carbohydrates and monitor fluid intake. Carbodroid Applications provides a friendly way for users to monitor and track their health initiatives. In addition to the monitoring system, Carbodroid Applications enables its users to set and monitor their goals through simple charts and lists.
Symple Applications is a journal that customers can use to track health symptoms. For patients who want to document their daily symptoms, Symple Applications is a mobile health program that is the ideal app. In addition to the tracking system, Symple Applications provides advice about exercise, dietary changes and lifestyle recommendations. Customers can use Symple Applications to create a comprehensive report to present to their physicians.
Drugs.com Applications provides customers with the ability to get information about their prescription drugs. As with other leading health apps, patients can find out about drug interactions and identify pills on Drugs.com Applications. Helpful tools that are included on this app are a comprehensive drug list, personal medical information and a section for questions and answers. Drugs.com Applications is available to Android and iPhone users. 10 Best Apps carefully compiles comprehensive data on each contestant for the award. Factors used to determine the distribution of the awards include site traffic, customer reviews, proprietary analytics, SEO rankings and online research.
10 Best App values the importance of recognizing brands that are at the top of their industries. 10 Best App is an innovative information source that tracks the latest news, technology trends and changes in the app industry. As a result, 10 Best App has emerged as a trusted source for app enthusiasts.
For more information, visit http://www.10bestapp.com.