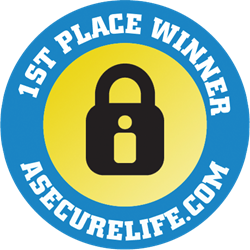 Buying a home security system is confusing. That's why we at ASecureLife.com do all the research so consumers can make better decisions to fit their unique needs and budgets.
Winston-Salem, NC (PRWEB) March 11, 2014
Since 2007, ASecureLife.com has conducted its detailed and comprehensive review of the home security industry. The security experts have just completed their fifth annual Top Home Security Systems Review. Every year their team calls on independent security experts, conducts mystery shopper phone calls and culls all the consumer feedback on its own website as well as third-party review sites (Yelp, Angie's List, the Better Business Bureau, etc.) to make it easier for consumers to make the most educated choice.
To ensure their recommendations are the most up-to-date and accurate as possible for readers, ASecureLife.com takes into consideration new improvements, additional customer feedback and any new players that enter the market. They've also recently begun conducting quarterly re-evaluations to ensure they are a trusted resource for best home security systems recommendations throughout the year.
This unbiased home security review has resulted in three national companies earning top spots on ASecureLife.com's list of best home security systems companies:
1. FrontPoint – For the fifth year in a row, the top alarm systems winner is FrontPoint Security. FrontPoint's dedication to safe cellular monitoring, interactive monitoring, home automation, and excellent customer service ratings are among the many reasons why they have been consistently ranked number one in ASecureLife.com's best home security systems reviews.
2. Protect America – Protect America remains in second place for offering a wide range of options to meet all budgets. They also offer useful interactive and home automation services.
3. LifeShield - They made this year's top three for the first time because of their wide range of product offerings and innovative technologies.
To see a side-by-side comparison by price point of all the national home security system providers, check out: http://www.asecurelife.com/home-security-systems-comparison/.
"We work tirelessly to provide the most trustworthy, up-to-date and useful information for those seeking a better home safety solution," said Alex Schenker, President at ASecureLife.com. "We do all the research so consumers can make better decisions to fit their needs and budgets when it comes to finding the best security system for their homes."
Watch a quick, one minute video summary of the 2014 top alarm winners on A Secure Life's YouTube channel: https://www.youtube.com/watch?v=TKQ_9tIw25g.
About ASecureLife.com
ASecureLife.com, founded in 2007, is an established web brand and resource that helps readers find the solutions they are seeking with regards to home security as well as personal and cyber safety, identity theft, privacy protection and financial security. Readers are invited to interact and share their experiences in the security-centric web community via discussion forums, comments, social media and more.