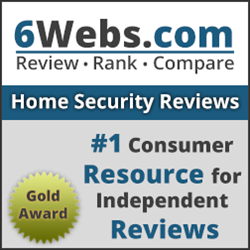 View the top rated home security system companies online at 6Webs.
San Francisco, CA (PRWEB) January 16, 2014
6Webs.com, the leader in independent home security systems reviews, has released their rankings of the best home security system companies in 2014. This is 6Web's 3rd annual home security company reviews and the results have been posted online at: 6Webs.com - Best Home Security Company in 2014.
Tim Smythe, the senior editor for 6Webs.com, recently stated, "After going through the review process several times, the staff at 6Webs.com knows exactly what to look for when reviewing a home security system company. A few aspects are key to each review which entail looking at the company's Better Business Bureau rating, customer reviews and speaking to actual customers. 6Webs.com is one of the few independent review companies that speaks to actual customers as part of the overall review process."
The top home security company in 2014 according to 6Webs.com is FrontPoint Security. FrontPoint Security has continued to lead the rankings as the best home security company due to their excellent customer service record and ability to deliver 100% wireless and cellular home security services. Additionally, FrontPoint Security offers their customers a 30-day money-back guarantee.
The 2014 home security systems reviews were based on the following factors: monitoring technology, monitoring packages, equipment packages, warranty, customer service, support, usability, mobile features, BBB Accreditation, BBB Rating, customer reviews, installation fees, years in business and the home security contract. 6Webs.com exhaustive review process leaves no stone unturned. For consumers wanting to know more about the top rated home security system companies, please view the 6Webs.com rankings at http://www.6webs.com/best-home-security-systems/.
About 6Webs.com
6Webs.com is an independent home security reviews company that focuses on delivering high quality reviews and security company rankings to consumers in the market for a home security system. There are a dozen factors that go into the home security reviews each year and only the top home security system companies are ranked on the 6Webs.com website. In addition to ranking the top security companies online, 6Webs.com also provides educational information on their home security blog to help consumers lead a safer and more secure lifestyle.