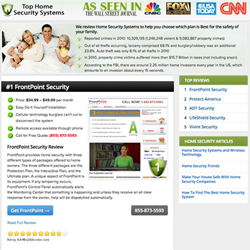 We have our excellent customer and expert reviews that help you choose what home security company is going to work best for you
Los Angeles, CA (PRWEB) September 04, 2014
Top-Home-Security-Systems.net, a website that is devoted to providing consumers with in-depth and helpful information about five of the top home security systems in the country, has just released the list of the best systems for 2014. According to the website, the best home security system is currently FrontPoint Security. The company offers three different types of packages for homeowners, as well as a unique equipment tampering alert system that lets the Monitoring Center at the company know if something is happening.
As a spokesperson for Top-Home-Security-Systems.net noted, the founders of the website are consumers too. Like many other people, they do not wish to waste their hard-earned money, and so they conduct careful research on products, companies and services before making a decision. This philosophy inspired them to launch the website, so they can help other people make educated decisions about which home security system to purchase.
Customers may rate their experiences with the five companies that are featured on the site, and they are also welcome to post their feedback and reviews. Visitors to the site can also read through these reviews, as well as detailed information about each company and the specific services they provide.
Another reason the founders of Top-Home-Security-Systems.net are dedicated to providing such helpful information about the top companies is that they understand that home security services are needed far too often. As the spokesperson noted, there are over nine million property crimes a year in the United States, which cost the victims upwards of $15 billion. In addition, the spokesperson said, there are over 2 million home invasions in the United States every year.
"Here at top-home-security-systems.net we value the customer's opinion above all else," the spokesperson said.
"That is why the top-home-security-systems.net website and all of its great functions are available to you. We have our excellent customer and expert reviews that help you choose what home security company is going to work best for you."
In addition to the helpful reviews of the best home security systems, the website also features educational articles that pertain to the topic. For example, an article titled "Home Security Trends" is especially popular with readers right now; the article discusses wireless home security systems, video technology and more.
About Top-Home-Security-Systems.net:
Top-Home-Security-Systems.net provides detailed reviews of home security system providers and their services. The founders of the site have done the research so consumers don't have to. The website features brief and accurate descriptions that help people learn more about the different home security providers that make up the Top Five. In addition to interesting background information, visitors to the site will learn about pricing, unique plan features and the different equipment of each home security system. For more information, please visit http://www.top-home-security-systems.net/