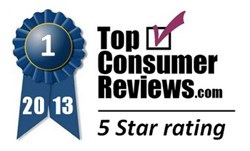 Each year TopConsumerReviews.com reviews and reports on the best home security systems available.
Miami, FL (PRWEB) October 15, 2013
TopConsumerReviews.com named the top home security companies in Florida for 2013. TopConsumerReviews.com provides independent product reviews on home security systems to help consumers make well informed decisions.
Florida has the 4th largest population of all the states in America, with over 19 million people living within its borders. According to the FBI Uniform Crime Statistics Report, Florida exceeds the national median for both violent crimes and property crimes. Particularly troublesome is the rate of property crime in Florida, where 1 in 28 Floridians will fall victim to a burglary, theft or automobile theft each year. This is higher than the national average and results in nearly 700,000 such crimes each year across the state. Florida experiences 74 crimes per square mile each year, far above the national median of 39 crimes per square mile. Considering the relatively high rate of property crime in Florida, securing personal property is strongly encouraged for all residents of the state.
The researchers at TopConsumerReviews.com, an independent organization that reviews the best home security systems each year, found that Florida shoppers today were looking for an affordable home security solution that provides all the bells and whistles of the more expensive options. Particularly, systems providing wireless technology and 24 hour monitoring were of high importance especially for those residents that owned a vacation home. Other shoppers identified remote access technology as a welcome feature to help manage their busy, on the go, lives.
"Each year TopConsumerReviews.com reviews and reports on the best home security systems available," explained Brian Dolezal of TopConsumerReviews.com. "Home security is a critically important issue for many people. With over 2 million burglaries in the U.S. each year, many individuals have chosen to protect their home with a quality security system. With our reviews, consumers can easily compare and contrast many home security systems. While the final decision on what type of security system is up to each homeowner, we hope our reviews make for a less stressful and better informed selection process."
To find out more about home security companies, including reviews and comparison rankings, please visit the Home Security Systems category of TopConsumerReviews.com at http://www.topconsumerreviews.com/home-security/.
About TopConsumerReviews.com
TopConsumerReviews.com, LLC is a leading provider of independent reviews and rankings for thousands of consumer products and services. They offer the latest on Home Security Systems including information, education, and ratings for the best home security companies available today.