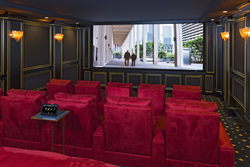 Clearly these awards are reflective of a commitment to Excellence by all those who were involved. I am extremely proud of the hard work our team put forth to achieve this recognition.
Los Angeles, California (PRWEB) September 24, 2014
VIA International, the nation's largest home technology installation firm, has been awarded the following awards at the 2014 CEDIA EXPO: Best Integrated Home (two awards), Best Home Theater, and Best Unique Application. CEDIA (Custom Electronic Design & Installation Association) is the premier trade association representing companies that specialize in designing and installing electronic systems for the home, and their Electronic Lifestyles® Designer Awards are considered to be the most prestigious awards program for the residential electronic systems industry.
One of the Best Integrated Home awards was voted a winner by the annual joint CEDIA – HGTV Remodels "People's Pick" awards, where design-savvy voters choose their favorite automated home. The same project won Crestron's Unique Application award. The winning project, located in Beverly Hills, California, features all of the luxuries of high-end home automation, such as complete lighting control, motorized shades and drapery, whole house audio/video, intercom built into touchscreens, and climate control. Even a vintage church organ was integrated into the home's sound system. Crestron is one of the world's leading home automation system manufacturers.
The winner of CEDIA's Best Integrated Home project is located in Aspen, Colorado. The historic Victorian home received a modern make-over with a fully integrated Crestron home system that includes audio/video, lighting, motorized shades, security, and climate control. The newly integrated home provides a comfortable atmosphere to relax and entertain after a day of skiing, yet can also double as a remote office thanks to the robust VIA-designed home IT network.
The winner for Best Home Theater is a dedicated screening room located in a Hollywood executive's Los Angeles home. It features a large 176" diagonal CinemaScope format screen, professional-grade THX audio system, and first-run movies thanks to a PRIMA Cinema movie player. Impeccable picture and sound performance coupled with careful acoustic design by Paradise Theater creates a truly extraordinary home theater.
Gregg Holmes, CEO of VIA, comments, "VIA is focused on delivering a high quality product to our clients and working toward the ongoing goal of being "Best In Class" in our Industry. Clearly these awards are reflective of a commitment to Excellence by all those who were involved. I am extremely proud of the hard work our team put forth to achieve this recognition."
About VIA International
VIA International is the home technology provider for today's sophisticated, luxury homeowner. VIA was founded on the belief that every client deserves to be happy in their home and has developed unique processes designed to make their clients love where they live. VIA accomplishes this vision by seamlessly integrating technology into their client's everyday life and by delivering concierge-level service. VIA is the largest home technology integration firm in the United States, and has won more awards for their home theater, home automation, and custom audio video solutions than any other integrator in the country. VIA designs and implements turn-key home technology solutions and works with the world's top architects and interior designers to seamlessly blend state of the art technology with great architecture and design. For more information about VIA International please visit http://www.viahome.com.