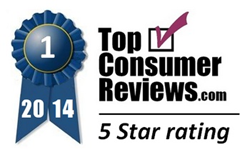 Amazing Club provides members two highly scrutinized hot sauce flavors per month for the ultimate taste bud experience.
Overland Park, KS (PRWEB) March 22, 2014
TopConsumerReviews.com recently awarded their highest five-star rating to Amazing Clubs, an industry leader in Hot Sauce Clubs.
"We're very pleased to receive TopConsumerReviews.com's highest rating," said Corey Newhouse, Founder and Chief Marketing Officer of Amazing Clubs. "Since 2003 we've been committed to delivering high quality gourmet items that meet our customers' gift giving needs. Our Hot Sauce Club features delicious, hard-to-find gourmet Hot Sauces from across America. As a result of our commitment to choosing delicious products, we've built a customer base of over 1,000,000 satisfied customers. We certainly appreciate being recognized for our hard work and commitment to making people smile month after month."
When people purchase a hot sauce club membership, they get to enjoy a regular sample of unique, boutique hot sauces delivered right to their doorstep. It's like delighting in the holidays over and over again. The flavors and brands of hot sauce that are delivered through a club membership are rarely found at the local grocery store, and make for a fun taste testing event. The names and style of these hot sauces can get the heart racing in anticipation for the unique and delicious experience.
"Amazing Club provides members two highly scrutinized hot sauce flavors per month for the ultimate taste bud experience," explained Brian Dolezal, of TopConsumerReviews.com. "Sauces are made in limited-production from gourmet chefs and restaurants around the world. Amazing Clubs has a strong sense of customer service and has geared the company to make happy, repeat customers. Outside of high quality hot sauces, their customers enjoy free shipping and membership flexibility that caters to anyone's needs and budget. Whether the hot sauce is for yourself or as a gift, you should be impressed with the level of professionalism and customer service at Amazing Clubs."
To find out more about Amazing Clubs and other hot sauce clubs, including reviews and comparison rankings, please visit the Hot Sauce Clubs category of TopConsumerReviews.com at http://www.topconsumerreviews.com/hot-sauce-clubs/.
About Amazing Clubs
Amazing Clubs is a leading supplier of gift of the month clubs for both consumers and corporate buyers through their online website. A division of ICG America, Inc., Amazing Clubs was launched in 2003 and has quickly become a leading destination for both consumers and corporate buyers of gourmet gifts with 35 different club offerings.
About TopConsumerReviews.com
TopConsumerReviews.com, LLC is a leading provider of independent reviews and rankings of hundreds of consumer products and services. From hot sauce clubs to gift baskets and wine clubs, TopConsumerReviews.com delivers in-depth product evaluations in order to make purchasing decisions easier.