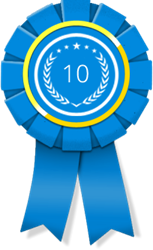 NEW YORK, N.Y. (PRWEB) October 27, 2015
10 Best Design is pleased to announce its new monthly award to honor the best hotel web design firm choices available in the marketplace. The group's best hotel web development agency for October 2015 is Big Drop Inc. 10 Best Design, comprised of an enthusiastic group of driven and talented individuals, specializes in detailed design agency reviews and appraisals.
Big Drop Inc. is a highly acclaimed digital agency that is located in the heart of New York City. As a top hotel web design firm, Big Drop Inc frequently works with hospitality-industry clients to provide them with attractive and interesting websites that can truly communicate their services and products. If a brand new boutique hotel wants to set up a business website that can effectively draw in potential new guests, it should recruit the skills of the illustrious Big Drop Inc. team without a minute of delay.
Lounge Lizard, like Big Drop Inc., is proud to be one of the best hotel web design firms in the Big Apple. The design pros who work for Lounge Lizard are all very knowledgeable regarding new and efficient online marketing techniques. They are talented in everything from setting up websites to identity branding. They are even good at the development of mobile applications. If a hotel of any size wants to build an online presence that is impossible to ignore or deny, then the staff at Lounge Lizard is up to the task. The web design services available at Lounge Lizard are straightforward, smart and extremely stylish. Hotels that want a truly modern take on website design should explore their options with Lounge Lizard.
Fine is a leading hotel web development agency that has offered its design and development talents to a broad selection of luxurious hospitality clients. Based in San Francisco, Calif., it also has multiple offices in Michigan and Oregon. If a hotel client is looking for a website that is meticulous, streamlined and totally cool, Fine can definitely help. Fine has assisted established hospitality clients such as the Ritz-Carlton, the Hotel Goleta and the Kimpton Buchanan. Fine routinely works with hospitality clients in their home city of San Francisco. The Kimpton Buchanan, for example, is a majestic and contemporary hotel situated in the bustling and lively Japantown section of San Francisco.