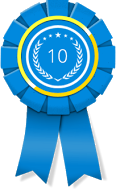 NEW YORK, N.Y. (PRWEB) February 22, 2016
10 Best Design is thrilled to announce a brand new internet marketing award for February, the Best Hotel Web Design Firm award. The leading hotel web design business representatives who top this list have pulled out all the stops to provide brand owners with incredible, innovative, identity-building online marketing services that generate substantive results.
Big Drop Inc tops the list of best hotel web design businesses for February. The firm's creative approach to the world of web design and development enables brand owners to maintain an online presence that transcends the cookie cutter, generic templates that currently populate the Internet domain. In addition to cultivating compellingly creative websites, the Big Drop Inc professionals are skilled in optimizing the client's web pages for key components like engagement, functionality, and mobile friendliness. By using the latest digital technology in conjunction with ongoing target market research, the Big Drop Inc professionals excel in helping clients dominate the online realm.
Leading hotel web design firm Lounge Lizard is another incredible hotel web development firm represented on this month's list. The professionals of Lounge Lizard are passionate about ensuring that the client's brand maintains a unique appearance in the online realm. The firm maintains a creative approach to the world of web design and development, meaning that corporate leaders can count on their online image to stand out from the look-a-like representations that already exist. Additionally, the Lounge Lizard representatives work with excellence and expediency to enhance sites for connectivity, thereby ensuring that the relationship-building process between client and consumer is optimized and accelerated.
Fine represents a team of skilled digital developers who enjoy each component of the web building process, which is, in part, why the company appears on 10 Best Design's list. As a top web design firm, Fine and its team members work with infinite precision and passion to ensure that every element of the client's website is optimized for engagement and connectivity. From Share Buttons to calls to action to creative templates, clients can count on their website maintaining a holistically compelling, innovative presence in the online domain. Moreover, the Fine professionals believe that the customer's voice is of the utmost importance. For this reason, the firm's representatives maintain a client-centered ideology that keeps the business owner's vision and values at the center of the marketing campaign.
For more information, visit http://www.10bestdesign.com.