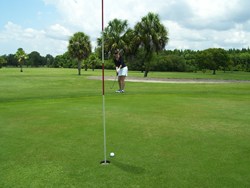 The Best Hybrid Golf Wedges on the Market Today
Nationwide (PRWEB) August 07, 2013
This new design offers an iron face on a hybrid body that has the hosel positioned so that even average golfers can have the confidence to be very creative when it is necessary to pull a pitching wedge or a chipping wedge out of the bag.
Many players over complicate their lies, "When chipping or pitching, many players mistakenly aim toward the hole as a target. Instead, think in terms of what the shot will look like in order to get the ball close to the cup. Your target should be a landing area that will allow the ball to get on the green, take any break needed and roll like a putt when it gets near the hole," explains a golf professional, Bill Kroen.
Having a pitching wedge and chipping wedge that players have confidence with will greatly help in evaluating the situation properly on just where the ball should land on the green so it will role to the cup instead of rushing the shot with poor results that typically comes with a low confidence level with your wedges.
Distance always plays a vital part of the shot at hand with the short game. It seems our ball always lands at a distance that requires more finesse then power. This is why great players practice countless hours on those little finesse shots that are so vital for shooting lower scores.
The lack of practice by so many amateurs clearly shows up with those 30 to 40 yard shots to the green. One big problem we see by so many amateurs is they take nearly a full back swing on all types of short game shots and then try to adjust the distance needed by slowing down their swing through impact which is a big cause of chunking shots. The rhythm should be more on the slow side on the take away to a distance sufficient enough to allow a slight acceleration through the shot to reach the desired spot on the green. "The best way to become proficient with this vital part of the game is practice," a company spokesperson stated.
The all new Black Magic pitching wedge and chipping wedge, makes practicing this vital part of the game more fun because of the hybrid body allows golfers to slide the club easily over the turf or through the sand without taking those long back swings for short shots.
About:
Blade Runner Golf, Inc. is a company devoted to the notion that a golfer's short game can make all the difference in his or her final score—but you can take your short game to the next level only if you have the right equipment. Black Magic's hybrid wedges Conform to USGA rules, but also helps golf enthusiasts find new precision and power as they make their way onto the putting green. Black Magic Wedge can be accessed on the web at: http://www.blackmagicwedge.com
Contact:
Black Magic Wedge
2519 McMullen Booth Rd
Suite 510-129
Clearwater, FL 33761
Phone 727-726-5737
Toll Free 877-799-6099