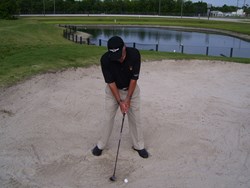 The Best 56 Degree Hybrid Golf Wedge For Tight Lie Chipping
Nationwide (PRWEB) July 19, 2013
Their whole line of Black Magic Wedges features a hybrid body with an iron face that has the hosel positioned so players can be very creative with all types of shots around the green without shanking. The hybrid body reduces the chances of chunking which are two problems that plague many golfers.
The patent design of Black Magic's best hybrid sand wedge can give players total control of all the different types of situations around the green that a 56 degree golf wedge would be the best choice. From flop shots to bunker shots this hybrid sand wedge delivers on its promise to improve a player's game.
Many golf pros and instructors alike know that many players will avoid certain clubs in their bag like a 56 degree golf wedge or their driver because of lack of confidence. A few bad slices with the driver or shank a wedge shot and they are ready to leave those clubs in the bag for another day. Blade Runner Golf is doing their part in the short game by offering a sand wedge that is sure to build confidence and eliminate shanks.
Blade Runner Golf, a retailer carrying the entire line of Black Magic clubs, has seen vast improvements in many of its customers' performance. One major reason is the Black Magic hybrid sand wedge makes bunker shots less stressful. This new design does not get stuck in the sand like traditional wedges which can stop the necessary follow through. Their best hybrid sand wedge will still produce great shots when mis-hitting behind the ball. Many pros believe Black Magic's hybrid sand wedge rates every high because they do not require that perfect pinch behind the ball to get great results.
The short game in golf is one of the most challenging, intimidating, and misunderstood aspects of the game for many. All sorts of contradictory and counter intuitive tips, tricks, and advice inundate players, making many of them unable to relax and concentrate on the task at hand. Part of that anxiety comes from club choice, trying to get around using the right club. This hybrid sand wedge takes that stumbling block out of the equation giving the player more confidence. That translates not only into building real confidence, but being able to clearly refocus when necessary.
About
Blade Runner Golf, Inc. is a company that is very serious about the notion that a golfer's short game can make all the difference in his or her final score—and that players can take their short game to the next level if they only have the right club from which to choose. Black Magic's hybrid wedges Conforms to USGA Rules, but also helps golf enthusiasts find new precision and power as they make their way onto the putting green. Black Magic Wedge can be reached on the web at http://www.blackmagicwedge.com.
Contact:
Black Magic Wedge
2519 McMullen Booth Rd
Suite 510-129
Clearwater, FL 33761
Toll Free Phone: 877-799-6099
sales(at)blackmagicwedge(dot)com