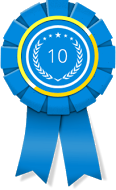 WASHINGTON, D.C. (PRWEB) March 29, 2017
10 Best Design recently selected the winners of its Best Invitation Design Firm awards for March 2017, giving Old City Press, Invitation London and Paper & Type the top three prizes.
10 Best Design is an awards organization that has been steadily earning a reputation for being the authority in ranking design firms in a variety of industries. As a part of their program, 10 Best Design collects data on companies that provide a number of ecommerce-related services, and then analyzes this in order to accurately determine which companies are performing at an above average level. By ranking these companies and then prominently displaying it on their website, potential customers can easily see which businesses are worthy of their time and, more importantly, their money.
As a part of their awards program for the month of March, 10 Best Design has recently unveiled their picks for the best invitation design firm. And it is not surprising that Old City Press heads the list of best invitation design businesses. Old City Press has firmly established itself as a company that understands how to make personalized invitations in an affordable and efficient manner, without making any sacrifices to originality or overall quality. After reviewing customer reviews, as well as the various services offered by Old City Press, 10 Best Design felt it was appropriate to give them the top spot for this month.
In addition, 10 Best Design awarded Invitation London the second-place spot for March. One of the biggest selling points for Invitation London is the way in which they approach customer service. As a top invitation design business, Invitation London has built their services on working closely with each of their clients on an individual level to better ensure that all of their needs are effectively, and appropriately satisfied. Their commitment to customer service, as well as their ability to hand craft unique invitations, has helped them become one of the best invitation design firms in the industry.
Finally, Paper & Type was selected in third place for March to round out the list of the top three invitation design firms. Although they offer similar services to other top invitation design firms, Paper & Type is somewhat unique in that it is also able to design logos and packaging labels for growing companies. This diversity of services puts Paper & Type ahead of many of its competitors.
Although 10 Best Design has determined the leaders for March, their research and analysis is performed on a regular basis, which means an entirely new company could emerge as the leader next month. The only way to stay informed is to regularly check back with 10 Best Design to see which companies manage to stand out each month.
For more information about the March award winners, please visit http://www.10bestdesign.com.