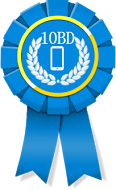 NEW YORK, N.Y. (PRWEB) August 29, 2016
10 Best Design recently announced the winners of its newest monthly award: Best iOS app design. Successful contenders on the list of evaluated companies are Blue Fountain Media, Moby Inc and Jack Rabbit Mobile.
Modern technology has allowed entire new advertising fronts to emerge, and the mobile market is perhaps the most lucrative. There are so many people using mobile devices to access content on the internet and through apps, and businesses can certainly take advantage of that to reach new and existing customers in a direct way. When deciding on a firm to develop an iOS app, it's best to hire a company with a solid reputation in the industry. Therefore, 10 Best Design has started a new monthly award that ranks the top 10 best iOS app design firms.
The new award by 10 Best Design will be updated at the start of every month, and the rankings are based off proven algorithms that calculate the best overall firm by way of comparing recent performance metrics and other statistical data. For August of 2016, the top three winners are described in this release.
Blue Fountain Media is the best iOS app design agency for August of 2016. They are contracted by numerous clients in a wide range of fields to create their stunning apps, and they can fully customize an app to meet the needs of the client. Their apps are not only beautiful, but they are also fully functional. Blue Fountain Media goes above and beyond to satisfy their clients.
When it comes to the prime iOS App design firms in the industry, Moby Inc is an obvious choice. The second best iOS development firm for August of 2016 is Moby Inc. They are based in Seattle, Washington, and they have a full staff of expertly trained agents who are able to create amazing iOS apps based on the desires of the client. Their expertise in iOS extends to their impressive game production experience, many of which are iOS apps.
Top iOS development firm Jack Rabbit Mobile took third-place for August of 2016. Jack Rabbit Mobile is located in Austin, Texas, and its expertise lies in passing the rigorous standards imposed by Apple in order to create an app for the Apple App Store. Every app they produce is beyond the requirements set forth by the platform, so they always satisfy their clients.
For more information about the award winners, visit http://www.10bestdesign.com.