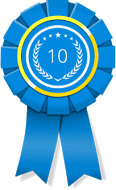 NEW YORK, N.Y. (PRWEB) December 20, 2016
Recently, 10 Best Design chose the winners of its 10 Best iOS App Design Firm awards for December 2016, honoring Blue Fountain Media with the first-place prize.
Mobile apps are the wave of the future when it comes to communication and entertainment, but there are so many firms out there trying to take advantage of the exploding app market that it can sometimes be difficult for brands to determine which is the best for them. That is why 10 Best Design has started a new monthly awards system that ranks the best firms in the app design field. Since app designers often focus on specific operating systems, so does 10 Best Design. Their list of the 10 best iOS app design firms has already been released for the month of December in 2016.
The lists put out by 10 Best Design at the start of every month are designed to help the industry find the very best service providers for app design. They use complex process and highly detailed profiles to determine which firms are the best, and their lists are updated once a month to keep the information fresh. The top three winners for December in 2016 are outlined below, and information about all the other winners can be seen online.
Blue Fountain Media, the best iOS app design business for December 2016, is one of the industry's leading firms for digital marketing of any type. Their amazing skills have led to some incredible apps over the years, and they have offices located in Chicago, New York, and Redmond. They can offer their world-class app design talents to any brands that need them.
Moby Inc, which is second on the roster of best iOS development businesses for December, is headquartered out of Seattle, Washington. Their goal is to produce apps that will allow their clients to connect and engage more easily with their customers. Their team of developers and designers has many years of experience in the digital marketing field, and they can help their clients avoid the most common mistakes when it comes to app design.
Based out of Austin, Texas, Jack Rabbit Mobile is a leading iOS app design firm that focuses solely on iOS platforms. They are highly versed in the most common programming languages, and they can use Swift Technology to improve their utility.
For more information about this month's winners, please visit http://www.10bestdesign.com.