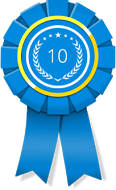 SEATTLE, Wash. (PRWEB) April 21, 2016
10 Best Design has announced the winners of the April 2016 10 Best iOS App Design Firm Awards, recognizing Moby Inc. at the top of the list. This month's winners feature firms across the country, as well as across the ocean to Hong Kong. Each firm has been rated by a quantitative criteria designed by the 10 Best Design team.
Recognized as April's top-ranking recipient of the award for leading iOS development businesses is Moby Inc. of Seattle, Washington. The site promotes iOS applications for Apple mobile devices. Moby is committed to engineering apps that are optimized to run across various iOS versions, including the latest software. Due to the frequent improvements and updates that Apple releases to their operating system, Moby is commended for their continuous efforts to improve their apps and approach. Most recently they have been working on updating their applications for iTunes that are only available to Apple users.
The second-place winner this month is Jack Rabbit Mobile of Austin, Texas. Jack Rabbit Mobile is a first-rate iOS design firm that delivers affordable and practical IT solutions for the American marketplace. They specialize in coding and programming for iOS software and Apple mobile devices. The firm is made up of a skilled and dedicated team of programmers who are experts in s HTML5, CSS3, PHP, jQuery and C+ and are well-versed in applying their skills to the backend layers of iOS applications.
The third runner up this month comes from San Diego, California. As a premier iOS development business, Barefoot Solutions is passionate about bold and creative solutions for their clients. The full service interactive agency also provides UI/UX design, product management and analytics and strategic platform planning on top of their top notch mobile app development and support.
The rest of this month's recipients from fourth to tenth place were Evobills in Central Hong Kong, 7/Apps in Portland, Oregon; Infinite Red in San Francisco, California; Stone Soup Tech of Atlanta, Georgia; SFCD of New York, New York; Rocksauce Studios in Austin, Texas; and Dogtown Media in Los Angeles, California.
The 10 Best Design team is based out of San Diego, California. The team is made up of a skilled panel of experts who have backgrounds in PHP, JS, CSS, HTML, as well as search engine optimization and online marketing. For more information, visit http://www.10bestdesign.com.