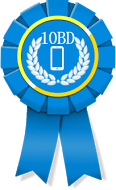 NEW YORK, N.Y. (PRWEB) September 28, 2016
Recently, 10 Best Design recognized some of the leading iOS Design Firms in the country. The list of winners in this category for September 2016 are Blue Fountain Media, Moby Inc, and Jack Rabbit Mobile.
Mobile applications will take over advertising methods in the coming years, and many marketing firms are already starting to see the incredible value of adequately taking advantage of such a powerful advertising medium. Everyone uses mobile apps, especially those for the iOS platform. However, there are almost as many firms out there creating apps as there are users, so how can they be accurately judged for their quality? The answer is through the new monthly ranking system created by 10 Best Design.
10 Best Design uses their incredible research capabilities to determine which iOS app development firms are the most premium in the industry, and their techniques allow them to update their rankings at the start of every single month. This helps the industry stay afloat with up to date information about the best firms. The top three September winners in the iOS app design category are listed below.
Blue Fountain Media, which heads the list of the best iOS app design firms for September, is one of the most popular and professional digital marketing firms in the entire industry. They are headquartered in New York, and they have an impressive history of going above and beyond to meet the needs of their clients. They are also incredibly skilled at web development, marketing, and advertising strategy deployment.
Moby Inc, another top iOS app design firm, offers services to many brands in the United States. Based in Seattle, Moby Inc uses the most advanced tools and digital development techniques available on the market in order to generate apps that are both visually stunning and highly functional. They are even able to create innovative gaming platforms that can't be duplicated by other firms.
Jack Rabbit Mobile, a premier iOS app development firm located in Austin, Texas, has a stellar reputation for developing mobile apps for many different styles of brands and businesses. Their team is made up of dedicated managers, developers, engineers, designers, and many other professionals. Their fields of app development expertise include real estate, education, healthcare, automotive, and eCommerce.
To learn more about the winners of the latest 10 Best Design awards, visit http://www.10bestdesign.com.