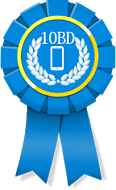 SAN FRANCISCO, Calif. (PRWEB) June 27, 2016
10 Best Design is pleased to announce the winners of its latest monthly award, the Best iOS App Design Firm Award. Consequently, it has recognized Blue Fountain Media as the country's foremost provider in the industry in this category.
The award is very timely, given the current business environment. The explosion of modern technology has brought with it a whole new host of methods for businesses to communicate with their clients. One of the most recent innovations to that end is the smartphone app. Smartphones are taking over the world, giving everyone access to a world of content that may have been previously unavailable. Apps are one of the best ways for businesses to take advantage of the focus people place on their phones, and there are many firms out there that offer app design for business clients. These firms have been ranked by the experts at 10 Best Design, who are on the lookout for the best iOS app design firm on the market.
The list of the 10 best iOS app designing firms has been compiled using many different variables, all of which affect a company's ranking. 10 Best Design issues the monthly award in reaction to the changing landscape of technology. The top three winners of the June 2016 list are outlined below.
Blue Fountain Media is the top company on 10 Best Design's list of leading iOS development agencies in the United States. Their clients range from new ventures to more established businesses looking to expand their market share. They focus on creating apps that are both functional and beautiful, combining creativity with technology. Blue Fountain Media can produce apps for nearly any industry, including retail, e-commerce, and education.
Moby Inc. focuses the majority of their efforts on developing apps for iPhone and iPad, along with the rest of the iOS platforms. In its role as a top iOS app design firm, Moby Inc. creates completely custom apps—many of which are easily available through the iTunes App Store. One of the most impressive features of their service is that they continue to update custom apps after they have been completed, which conveys a larger sense of comprehensive service that goes beyond simple app design.
Leading iOS app design firm Jack Rabbit Mobile is well known in the industry for its work. The company has earned their reputation as a quality provider of engaging, intuitive apps that allow for a high level of versatility without sacrificing on aesthetics or functionality. Their clients include both mid-size and large businesses looking to help their customers view available products and services more effectively.
For more information about the June awards, please visit http://www.10bestdesign.com.