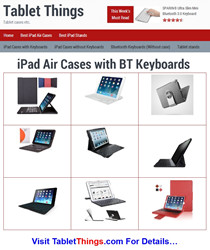 While the 'original' iPad Air smart case costs $79, same or better-quality third party smart cases can be bought for as little as $12.
Chicago, IL (PRWEB) April 14, 2014
There are literally hundreds of iPad cases in the market. However, not all of them can be recommended because some iPad Air cases (i) easily split and crack; (ii) have cutouts that don't properly align with the rear camera, mic, volume buttons, or the lightning connector; (iii) don't have soft microfiber interior linings; (iv) don't have built-in stands; and (v) don't have any cushioning for shock absorbance. This is where the recently published List of #1 Recommended Best iPad Air Cases comes in handy, because it helps consumers differentiate the better cases from the rest.
The review categorizes iPad Air smart covers as those with and without Bluetooth keyboards. Some people prefer iPad covers with built-in keyboards because when an iPad is connected to an external wireless keyboard, the on-screen keyboard disappears, effectively doubling the visible/useful screen area. This type of case is especially useful for those who wish to type a document during a flight, take notes during a class or business meeting, etc.
While the original iPad Air Smart Case at the Apple store costs a staggering $79.00, the prices of third party iPad cases have dramatically come down during 2013 and 2014. For example, a high-quality iPad Air smart case can be bought for as little as $12.
The best third party iPad Air cases that made it to the top of the list come from brands like Kensington, Logitech, Snugg, MoKo, Fintie, INVELLOP, Bear Motion, MacCase, and Trent Airbender. Even though some of these brand names are not very popular, some of them have been manufacturing tablet cases and covers from the time the first generation iPad was introduced back in 2010. While most of them are made of premium-quality PU leather, some are made of aluminum or 100% genuine leather. Some people prefer synthetic leather over real leather iPad cases because they are cheaper and do not involve animal sacrifices. Almost every iPad Air case available in today's market is a smart case. In other words, they have embedded magnetic strips which enable automatic 'waking up' and 'sleeping' of the Apple iPad when the iPad case is opened and closed, respectively. Some of the more sophisticated cases even have detachable keyboards that wirelessly (Bluetooth 2.0 or 3.0) communicate with the tablet. In spite of the built-in keyboards, these iPad cases can be as thin as 0.3 inches.
http://TabletThings.com/Best-iPad-Air-Cases/ also lists a few iPad cases that double as iPad stands. Some of them can be adjusted to stand at multiple angles allowing the user to view the screen at various angles, hands free. In addition to smart cases and covers, they also list a variety of other iPad accessories like iPad stands and Bluetooth keyboards. They review best iPad cases not only for the 9.7" iPad Air, but also for the older generation iPad 2 and iPad 4 with retina display. iPad 2 and 4 cases are also still popular because the older generation iPads received price cuts after the 5th generation tablet was introduced. They also have sections on 7.9 inch iPad mini cases and tablet accessories for non-iOS tablets like the Samsung Galaxy Note, Amazon Kindle Fire HDX, and Google Nexus tablets that are mainly based on an Android platform. These reviews are useful for anyone that doesn't want to settle for anything less than the best iPad Air case their money can buy.