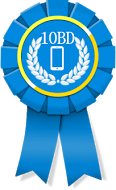 NEW YORK, N.Y. (PRWEB) April 26, 2016
10 Best Design has released a new monthly award to highlight the Best iPad App Design Firms of April 2016, with winners emerging from the United States and overseas. After scouring the globe, 10 Best Design selected Swarm as the top design firm for iPad developers.
10 Best Design understands that Apple's iPad is the gateway to the online world for a significant portion of the population. It also knows the importance of deciding which features and functionality to include with a new app, which is why it pleased to recognize companies that can deliver these requirements.
At the top of the list of best iPad app design firms, Swarm stays true to their name and incorporates new tech swiftly to quickly spread their clients' brands. With a keen focus on developing to specifications of each iPad model, this Best iPad App Business earns the top spot by providing consistent user experiences expected on every generation of the tablet. This uniformity builds individual brand recognition while increasing Swarm's client list.
Oslo Solutions, a top iPad app business named for their location in Oslo, Norway, caters to businesses of all sizes. Whether it's the first entrant to the App Store or a new version of an in-use offering, this firm works at their client's level and within their budget. They are also well versed in porting from other operating systems to the iPad and retooling existing apps for optimal use and improved interfaces.
Dogtown Media is a premium iPad app design firm with headquarters in Los Angeles, California. They excel in visual presentation and use this talent to draw customers to the apps they design. Their eye-catching presentation is only the first, noticeable aspect of their work. Highly skilled technical professionals develop and test all features before implementation to ensure that each release maintains and raises the level of performance. This dedication to results helped them to land on the third spot on this list.
10 Best Design awards this monthly honor to the top iPad App Design Firms based on a wide variety of factors. Their multi-faceted approach is quickly making their word the first to seek when selecting the correct iPad App Developers for the job. For more information, visit http://www.10bestdesign.com