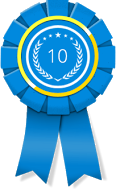 NEW YORK, N.Y. (PRWEB) September 29, 2016
Awards organization 10 Best Design recently honored some of the country's best iPad app design businesses for month of September 2016. The top three winners of the Best iPad App Design Award for September 2016 are Swarm, Olso Solutions and Dogtown Media.
There is no denying that mobile apps are going to be the primary advertising method of the future, and many companies are already starting to see the advantages of using premium mobile apps to reach new customers while retaining old ones. The problem is that there are so many design firms out there it can be difficult to determine which the best is for the purposes of a specific brand. Some of the most useful apps in this arena are iPad apps, and there are numerous firms out there that claim to be the best. That is where 10 Best Design becomes necessary.
10 Best Design makes it their mission to accurately rank the best iPad design firms each and every month. They use a complicated method of calculating the best firms by comparing their features and their reputation in the marketplace. They have performed unimaginable amounts of research to create these listings, and they will be updated at the start of every month. The top three winners in this category for September are detailed.
Swarm, the top iPad app design firm for the month of September, a New York-based marketing firm that focuses on smaller businesses looking to connect with their customers. They also work with companies that have existing apps that need to be tweaked to better suit their needs. Even though their firm is relatively small, their skills are second to none.
Oslo Solutions is second on the list of leading iPad app development agencies. Headquartered in Seattle, Washington, Oslo Solutions offers services that are not simply limited to iPad app design either. They also provide eBook development, IT management, general marketing consultation, and cloud computing and storage solutions.
Another top iPad app design firm, Dogtown Media, is a company with offices in London, Santa Monica, and San Francisco. The firm is touted as one of the most creative marketing firms in the industry. They understand that app development must cater to the individual needs of the client, so they work hard to create content for their clients that is unique and innovative.
For more information about the winners of the latest 10 Best Design awards, visit http://www.10bestdesign.com.