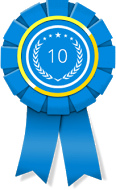 SAN FRANCISCO, Calif. (PRWEB) May 23, 2016
The experts at 10 Best Design recently published its May 2016 rankings for the Best iPhone App Design Firm awards. The awards are given out only to companies that design innovative mobile apps that run on the iOS platform for various editions of the Apple iPhone.
As an agency located in San Francisco, California, 10 Best Design knows quite a lot about the technology that comes out of the neighboring Silicon Valley. This high-tech hub is home to Apple, which makes popular mobile gadgets such as the iPhone and iPad.
Blue Fountain Media is the best iPhone App development firm, according to the meticulous analysis of 10 Best Design. As a company that calls Manhattan home, Blue Fountain Media is fully immersed in the global telecommunication niche. It's only natural for such a Web design agency to launch mobile apps for some of the world's best smartphones and tablets. The computer programmers at Blue Fountain Media develop iPhone apps that have attractive front end designs and solid back end infrastructure. From PHP to HTML5, this New York City-based agency applies the latest codes and scripts in order to develop functional apps for iPhone users worldwide.
Also based in the Big Apple, Tendigi takes the number two spot in the best iPhone app Web design category. Being a top iPhone app design firm, Tendigi ensures that iPhone apps are readily available for download on the Apple iTunes store. The apps often come with free upgrades to users who have already purchased them with a one-time fee. In today's fast-paced Internet age, it's important for mobile apps to stay up to date with the latest innovations in Web browsers. Tendigi takes great care and effort in optimizing apps to run on the most recent editions of the Safari Web browser that comes standard on all iPhones and other Apple devices.
Blue Rocket is nominated for the number three spot on the 10 Best Design rankings for the top iPhone app design firm. Blue Rocket, a leading iPhone app design firm based in San Francisco, this company is literally located only minutes away from the world headquarters of Apple. Therefore, Blue Rocket focuses most of its mobile app development for the iOS platform. The company's apps are often compatible with old versions of iPhones that have been taken off the retail market.
For more details about this month's award winners, please visit http://www.10bestdesign.com.