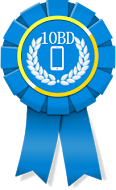 NEW YORK, N.Y. (PRWEB) June 28, 2016
A new monthly award, called Best iPhone App Design Firm, has been established by the 10 Best Design's evaluating team. For June 2016, 10 Best Design ranked Blue Fountain Media as the top firm in this category, followed by Tendigi and Blue Rocket.
Each of the firms that received this award can help clients succeed in developing some of the best iPhone apps. These apps can help a company to grow their audience. Each of the companies that has been recognized for this top iPhone app development agency award has been ranked based on services, as well as qualitative and quantitative analyses. This thorough ranking process was designed to help businesses make great choices for iPhone app design firms.
Blue Fountain Media, the best iPhone app development agency of June 2016, is based in New York, New York. They receive excellent reviews from their clients because their apps deliver an enjoyable and engaging user experience. They are also known for assisting their clients with mobile app marketing, strategy and design. In addition to working on iPhone apps, Blue Fountain Media also develops Android phone apps so that their clients can have excellent audience coverage.
The Tendigi company, located in New York City, New York, also made the list of the best iPhone app development agencies. They design popular apps that are optimized for the most recent versions of the iOS platform. Because iOS is frequently updated, Tendigi is always at work for their clients. They work hard to get rid of bugs before any app is released for users to download. They thoroughly test every part of every app to ensure that the design, user experience and features work as well as the client wants them to. Their developers and engineers understand the iPhone inside and out, which gives them the expertise needed to create great apps.
Blue Rocket is a leading iPhone app design firm located in San Francisco, California. They develop native iOS apps for a broad array of businesses across industries such as education and research. They keep up to date with business strategy, marketing strategy and development so that they can build a solid relationship with their clients. Their services help their clients to grow strong customer bases and develop long lasting relationships. From start to finish, they work with their clients to devise solid iOS solutions for all types of users.
For more information about the June awards, please visit http://www.10bestdesign.com.