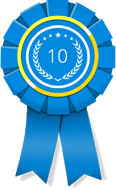 NEW YORK, N.Y. (PRWEB) April 25, 2016
Recently this month, 10 Best Design introduced a new award to honor the industry's top iPhone app firms. New York-based Tendigi emerged as the reigning company on 10 Best Design's list for April 2016.
10 Best Design rates the top ten best web design companies using client research, previous accolades, online research, reviews, traffic, among other factors. 10 Best Design is the #1 source for reviews and rankings for design firms, and their other awards include overall best firms, mobile app design, custom web design, digital agencies, responsive web design, SEO web design, Magento design, Wordpress design, and Drupal design. Growing quickly, 10 Best Design offers consumers information on the best in web design, helping them choose the company most appropriate for their needs.
This April, the title of Best iPhone App Design Firm was awarded to Tendigi, a leading iPhone app design firm based in New York City. Originally a start-up, they edged out the competition this month by offering a variety of services, including a new dating app, Fever. Fever works with Facebook photos and helps prevent quick, low-interest matches by requiring users to press and hold on the pictures of potential matches. The longer the user holds, the more he learns about that match. The more interested the user is, the more "heat" is generated for that match. Tendigi features strategy, design, and development services and counts Nick Jr., Ford, and Home Depot among its many customers.
Coming up second in the category of Best iPhone App Firm is Blue Rocket, located in San Francisco. In addition to the iPhone, Blue Rocket develops for android systems and website apps, making them a triple threat. Blue Rocket offers strategy, design, development, and post-launch services, asserting that they can have an app up and running in 12 weeks. Blue Rocket has developed apps for WebMD, Chipotle, and AAA, in addition to many others.
Moby Inc. rounds out the top three best iPhone app design firms by 10 Best Design. Not an agency, but a technology research and development firm, Moby Inc. has created apps for Deloitte, Fox, and Office 365. When not creating content for outside companies, Moby Inc. develops their own apps, including a Carrot Promotions Platform designed to "motivate consumers and incentivize sales teams."
For more information, visit http://www.10bestdesign.com.