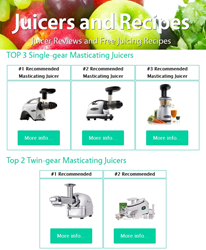 Avoid juice extractors that destroy nutrients by heat inactivation and oxidation.
Los Angeles, CA (PRWEB) February 27, 2014
There are 2 major types of juice extractors commonly known as masticating and centrifugal juicers. Generally, both the quantity and quality of the juice extracted using a masticating juicer are superior to that from a centrifugal juicer. However, centrifugal juicers also have their own strengths compared to the masticating counterparts. The recently published article, 10 Reasons why Masticating Juice Extractors are Better, reveals the Pros and Cons of each juicer in detail, and helps consumers decide which juicer suits them best based on their unique juicing needs.
80 rotations per minute (RPM) vs 1,500 RPM makes a world of difference:
According to the comparison, the slower rotation speed of the 'juicing-gear' in masticating juicers compared to that of centrifugal juicers is critical in determining the nutrient value of the extracted juice. While the grating disks of centrifugal juice extractors spin as fast as 1,500 RPM, the auger/gear that crushes and presses the vegetables/fruits of masticating juicers only turns at 80-110 RPM. The maximum RPMs of blenders typically range from 20,000 – 40,000 meaning they are even higher than those of centrifugal juicers.
Very high rotation speeds are detrimental to nutrients:
As illustrated on the single-gear masticating vs twin-gear masticating vs centrifugal juicer comparison, high rotation speeds as those seen with centrifugal juicers can destroy nutrients in fruits and vegetables in mainly 2 ways: (i) high RPMs generate relatively high amounts of heat which destroys certain heat-sensitive nutrients, and (ii) high RPMs result in mixing of nutrients with oxygen (this is what gives rise to the frothing) which results in oxidizing and subsequently destroying certain vital nutrients. In contrast, the slow rotating gear/auger of masticating extractors prevent heat inactivation and oxidation of nutrients with maximal nutrient retention. In addition, the masticating juice extractor is also quieter, easier to clean, is capable of handling wheat grass, leafy vegetables as well as nuts, and gives a higher yield of juice with a longer shelf-life compared to a centrifugal extractor. Detailed descriptions of Pros and Cons of the two types of juicers are available on http://FreeJuicingRecipe.com/Masticating-vs-Centrifugal/. It is an essential read for anyone interested in juicing.
10 BEST Juice Extractors Reviewed:
They have also made available a list the TOP 10 Juicers of 2014. Five of them are the centrifugal type while the others are masticating juicers. The Top 5 centrifugal juicers are from Breville and Hamilton Beach while the Top 5 masticating juicers are from Omega, Green Star and Super Angel. A particularly important feature noteworthy of mentioning is the up to 15 year warranty given for certain masticating juicers. This is because they are mostly made of metal or stainless steel making them very durable. In contrast, most centrifugal juicers have a lot of plastic parts making them relatively less durable. However, all that stainless steel also makes the former, more expensive than the latter. Nevertheless, considering the high yields, high nutrient content and high durability, more and more people are inclining towards masticating juice extractors.
In addition to the reviews on juicers, they also provide a host of resources on juicing recipes and downloadable guides on weight loss and other health benefits of juicing. The main advantage of juicing is that a juicer is able to extract the nutrients of 500 grams or more raw vegetables in to one glass of green juice. This extraction could be consumed in a couple of minutes. However, if the same 500 grams of vegetables were to be eaten as raw vegetables, it would take a lot more time.