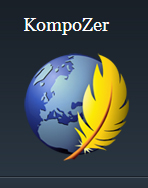 Websites Created with Kompozer
(PRWEB) July 18, 2014
Threehosts.com introduces top real websites built with Kompozer. Their list is available at http://www.threehosts.com/ratings/examples-sites/kompozer-showcase.html.
Users who are uncertain about choosing Kompozer to make their websites are often interested in seeing some real sites built with Kompozer before making their decisions, so Threehosts.com presents popular real websites designed with this application.
The sites selected by editors at ThreeHosts.com represent a variety of websites. Kompozer is becoming a well-adapted program among web developers, web designers, and site builders. Over the course of its lifetime, many webmasters have chosen Kompozer to deliver their sites on the web. ThreeHosts.com has selected a few fantastic examples to give users an idea how designers are leveraging Kompozer to build stunning online websites.
KompoZer is a complete web authoring system that combines web file management and easy-to-use WYSIWYG web page editing. KompoZer is designed to be extremely easy to use, making it ideal for non-technical computer users who want to create an attractive, professional-looking web site without needing to know HTML or web coding. This program provides FTP site manager, CSS editor, a new color picker, customizable toolbars, XFN, and visible marks. Kompozer is a complete Web Authoring System that combines web file management and easy-to-use WYSIWYG web page editing capabilities found in Microsoft FrontPage, Adobe DreamWeaver and other high end programs.
About Threehosts.com:
Threehosts.com is a reliable resource for web hosting reviews and ratings, including non-commercial hosting and eCommerce. They provide a list of top 3 affordable web hosts. Their experts have been evaluating web hosting providers for years, and now they present the information in an easy to understand format that helps the consumer make the best choice when choosing a proper web host for their personal and business websites.