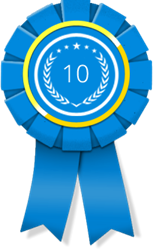 Valencia, California (PRWEB) March 30, 2015
10 Best Design, the top Internet-based web design ranking outfit, has announced its latest honorees for the 10 best law web design firms. Headquartered in San Francisco, California, 10 Best Design selects the winners with the help of a team of industry leaders who specialize in on-line branding, web design and development and search engine optimization. The best law web design firm selection process involves the use of an analytic review system, which rates each company based on factors including on-line research, reviews, prior accolades and traffic.
The first-place winner is Valencia, California-based Scorpion Design. As a leading law web design firm, Scorpion provides its clients with eye-catching websites that would boost the marketing efforts of any firm. They forge positive relationships with their clients and are eager to offer the highest quality service possible. Law firms that use Scorpion Design's services can look forward to seeing more clients, income, and web-based exposure. This company has earned several national accolades and is deserving of each with the level of quality extended to each law firm it serves.
Coming in at second place is JurisPage of New York City, New York. JurisPage is known as a top law web design company because its team recognizes the distinct needs of lawyers and what is required to get their clients noticed on-line. JurisPage can design a fitting website as well as create, execute and manage an all-inclusive marketing strategy that consistently attracts new clients. This firm only works with small firms and solo practitioners to ensure they provide the most effective services.
The third-place honoree for best law web design company is Great Jakes of New York City, New York. Great Jakes focuses on medium and large law firms, working with firms with as few as 40 to as many as 800 attorneys. Their clients often need a website design that helps potential clients navigate through the firm's larger site with the use of microsites. These microsites help web users locate personal biography pages with ease. This company incorporates interactive features like social media links to render the site more explanatory and accessible. Websites created by the Great Jakes team are optimized for search engines, and other on-line portals are merged with the main web page, all thanks to its Rainmaker CMS system.