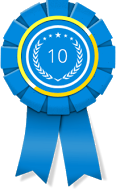 WASHINGTON., D.C. (PRWEB) August 25, 2016
As its continuing effort to serve the public, awards organization 10 Best Design has recently revealed its selections for the top three law web design firms for the month of August.
Law offices are an important segment of the market, making this an essential area of web design. Law offices are just as susceptible to the dangers of the competitive marketplace as any other industry, which is why web design is such a vital aspect of success for the majority of businesses. Using a professionally designed law website can make the difference between attracting and repelling new potential clients. By taking advantage of premium law web development services, law offices are able to improve the rate at which they sign new clients while also enjoying an increased page ranking for search engine results. 10 Best Design has recently started releasing monthly rankings for the 10 best law web design firms.
10 Best Design is able to update their findings every month because they use a ranking system that works by weighing different performance metrics against each other for the brands in question. This allows them to create objective rankings that are based on the true efficiency of the firm.
Old City Press is honored to be named as one of the best law web development companies for August 2016. City Press is made up of industry professionals who understand the needs of professional industries like law firms. That's why they were named the best law web development company for August of 2016. They see every project as a problem that must be solved in the most optimal way possible, and this approach has given them the opportunity to create some stunning law websites.
As a best law web design company, Big Drop Inc has built a reputation for balancing creativity and professionalism. These are skills that cannot be taught, but the experts at Big Drop Inc have mastered the art of doing both. That is why they were awarded the honor of the second-best law web design firm for August of 2016. They work with advanced technology and a knowledgeable staff to provide the best law web design possible.
JurisPage is a leading law web design firm that is well-known for their commitment to helping small law offices stand out from the crowd. Their goal is to use marketing campaigns combined with software techniques that have been proven to increase conversion rates. By doing so, they are able to provide an improved web presence that any law firm would benefit from. They also have a well of experience in SEO and cross-platform design.
To learn more about the award winners, visit http://www.10bestdesign.com.