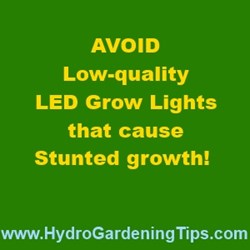 Expensive, yet low-quality grow light systems that cause stunting of growth must be avoided.
Chicago, IL (PRWEB) February 14, 2014
Different types of artificial light sources including LED grow lights, fluorescent lamps, high pressure sodium bulbs and metal halide lighting systems are used in hydroponic culture systems. Since LEDs (light emitting diodes) became popular among indoor farmers, many low-quality brands of these lights have been introduced to the market. The recently published Review of the BEST LED grow lights helps consumers weed out the expensive yet low-quality grow lamps from the high-quality systems that have proven to support plant growth under both vegetative and flowering/blooming phases. Because providing light with the correct wavelength and intensity is vital for efficient photosynthesis, using a good grow light system is crucial for successful hydroponics farming.
PROS and CONS of LED Grow Lights Explained:
http://HydroGardeningTips.com/Pros-and-Cons-of-LED-Lights/ describes benefits and limitations of LED grow light systems. In addition to being the smallest, lightest, and the least space occupying, they are also the most energy efficient type of grow light. Their lifetime, typically spanning 50,000 – 100,000 hours (up to 15 years), is also the longest lifespan among different light sources.
The main disadvantage of LED bulbs is their relatively high purchasing cost. For example, a 1000 watt LED system will cost as much as 3 times the cost of a 1000 watt Metal Halide (MH) plus High Pressure Sodium (HPS) grow light system. However, because LEDs produce the most lumens of light per watt, their impact on the monthly electricity bill is minimal. It's not uncommon to see people reporting savings of as much as $40 on the monthly electric bill, after switching from HPS grow lights to LED. Therefore, in the long run, using LEDs will be the cheaper option in spite of the relatively high initial investment.
Light of all wavelengths and color temperatures are NOT recommended for hydroponics.
According to the review, there are different spectra/colors of light within visible light, and not all of them are equally helpful with photosynthesis. The different colors of light are described using color temperature (measured in Kelvin; 0K) or wave length (measured in nanometers; nm).
Typically, the cool, blue light stimulates the vegetative/leafy growth of plants, and the warm, red light stimulates blooming/flowering of plants. Blue light typically has a color temperature in excess of 5000 degrees Kelvin or a wavelength of 400 – 500nm. In contrast, red light typically has a color temperature of 2000 – 3000 degrees Kelvin or a wavelength of 600 – 700nm. In contrast to sunlight that contains the full spectrum of light, commercially available grow lights used in hydroponics systems like deep water culture systems generally produce light of a particular class of wavelengths (except full spectrum LED lamps), and therefore not suitable for both vegetative and flowering phases. This is why many amateur hydroponics farmers, unaware of this phenomenon, make the mistake of using the wrong type of light source. For example, an indoor farmer using an HPS grow light system as the primary light source cannot expect to see good plant growth during the vegetative phase. This is because HPS grow lights only produce red light of ~2200 degrees Kelvin which is good for the flowering stage. http://HydroGardeningTips.com/Grow-Light-Science/#CRUCIAL is a highly recommended read for all hydroponics farmers that are not well-informed of the different wavelengths produced by different types of grow lights.
In addition to reviewing the best LED grow lights from popular brands like TaoTronics, G8LED, Apollo Horticulture and Hydro Grow, they also review the best grow tents and popular ready-made hydroponic systems available today. They are useful and recommended reading material for anyone considering getting into hydroponics.