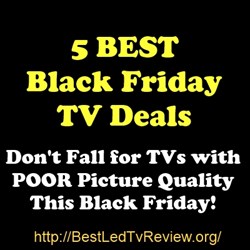 The simple logic is that if the picture quality is poor, it's not a good Black Friday TV Deal, even if it's $500 cheaper than the regular price.
Los Angeles, CA (PRWEB) November 28, 2013
Many years ago, when TVs were still very small and their prices were still very high, even with the best Black Friday TV deals, most people could not afford a flat screen TV bigger than 50 inches. Things have dramatically changed over the last two years. This year, 70 inch LED TVs will be sold for under $1000, 60 inch TVs will be sold for $668, 50" TVs will be sold for $399 and 32 inch models will be sold for $98. However, not all of these Black Friday TV sales are worth the long sleepless lines.
Click here for the Top 5 RECOMMENDED Holiday TV Deals.
The most popular 2013 Black Friday LED TV Deals are the 32" Seiki SE32HY10 for $98, the 40 inch Westinghouse for $199, the 50" Sharp LC-50LB150U for $399, the 50 inch Vizio M501D-A2 for $599, the 55" LG 55LN5100 for $499, the 55 inch Vizio E550i-A0 for $479, the 60 inch Vizio E601i-A3 for $688, the 65 inch Samsung UN65EH6000 for $999, and the 70 inch Vizio E701i-A1 for $998. They are from the usual stores headed by Walmart, Best Buy, Target and Amazon. However, not all of them can be recommended. One shouldn't have to suffer watching inferior-quality TV for the rest of his life just because a TV happened to be cheap on Cyber Monday. http://BestLedTvReview.org/Best-Holiday-Deals/ shows the 5 BEST TV Deals to grab this Friday.
There are mainly two types of flat screen televisions that go on sale this Friday and Cyber Monday: the not so good, outdated models that the stores can't sell anyway, and the actually good ones. One should not be deceived by the price and jump on the former category. Whether it's a plasma TV or LCD LED TV, thorough research should be done to make sure that it's a decent model that will not be obsolete in a matter of months.
Thanks to modern technology, it is now possible to watch very high quality video on home televisions. Many TV channels are available in high definition (720p or 1080p HD) in the USA and obviously DVDs and Blue ray disks have always had the highest quality. It would be a shame not to be able to enjoy this picture quality on a home television set. This is why one should pay close attention to the tech specs of the TV deals this coming Friday. More often than not, picture quality should not be compromised for a cheaper price tag.
The 10 Specs of the IDEAL TV discusses the technical specifications of an ideal TV. It's unlikely that a bargain TV deal will satisfy all of these 10 criteria, however, one should at least try to check as many of them as possible. For example, 1080p resolution and 120Hz refresh rates are a must nowadays to avoid motion blur from fast moving picture frames like on movies and sports. Energy efficiency is also important because that cost can be substantial over the years. With all the internet streaming services available, built-in Wi Fi or at least internet compatibility is another important feature. High-end features like micro-dimming and full array LED backlighting would be great features to have on a flat screen TV, however, it's very unlikely that a heavily discounted LED TV deal would have these features.
In addition to reviewing the best Black Friday TV deals, LED TV Reviews have also compared the best 70 inch LED TVs and 60 inch LED TVs.