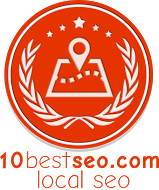 MESA, Arizona (PRWEB) January 27, 2016
The January 2016 winners for Best Local SEO Agency by 10 Best SEO have been released, and the recipients of the monthly award series represent cities across the country. The diverse group includes Digital Current, WebpageFX and Boostability, respectively from Arizona, Philadelphia and Utah.
SEO is a key aspect of successful online marketing and branding, and the following companies have achieved what the experienced panel of reviewers at 10 Best SEO believe to be the best practices, methods and approaches to search engine optimization. Their tactics incorporate styles that can be adapted to service a plethora of clientele, whether it's a multimillion dollar corporation or a startup eager to establish an online presence and attract local clients.
The number one place this month is held by Digital Current, a top local SEO agency in Mesa, Arizona. They are an award-winning local SEO company run by skilled staff members who know how to improve a client's higher conversion rate or search engine ranking, increase qualified traffic, as well as provide other web-based services such as digital consultation and the strategic organization of on and off-page marketing plans. This combination of excellent customer service combined with high-quality skill earned Digital Current the title of the Best Local Online Marketing Business.
In second place among the industry's leading local online marketing businesses is WebpageFx, which is cited for their ability to tackle the unique "geo-based commercial niches" relevant to their locale. The Philadelphia, Penn-based company has a long client list and service offering that doesn't just include top-notch SEO, but also includes PPC campaigns, content creation and webpage design. This month they have been described as "among the best in the rarefied air of international digital marketing companies."
Third place this month was awarded to Boostability, a top local SEO agency that is located in a town not normally associated with SEO and marketing: Lehi, Utah. Boostability takes full advantage of their rarity in their area, providing new clients with a free consultation and a selection of six different marketing services that include website content, local search marketing and, of course, search engine optimization.
The remaining recipients of the 10 Best SEO Agency Awards for January 2016 are EIGHT25MEDIA of San Francisco, Calif.; SEOValley and Comrade of Chicago, Ill.; SearchRPM of Austin, Texas; SEO Image of New York City; Huemor Designs Long Island, N.Y.; and SearchBloom of Holladay, Utah.