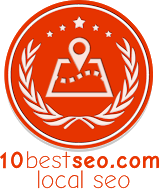 HARRISBURG, Penn. (PRWEB) September 29, 2017
10 Best SEO is pleased to announce a new monthly award that is being presented to local SEO agencies—the Best Local SEO Agency Award.
Companies are selected for the award on the basis of qualitative and quantitative measurements. The review process for the award includes proprietary analytics, online research, SEO and web traffic.
The new award is being presented to the top three local search engine optimization firms in the industry. The firm that has been awarded the best local SEO company is WebpageFX. The second-place award recipient is Straight North. The third-place award recipient is Boostability. 10 Best SEO is proud of the accomplishments of each of the recipients of this new monthly award.
As the best local SEO company, WebpageFX provides marketing services that are driven by results. This dynamic team of SEO professionals has generated almost $900 million in revenue for the company's clients. WebpageFX has been featured in NBC News, The Huffington Post and The Washington Post. Team members are passionate about SEO and client success. WebpageFX is headquartered in Harrisburg, Pennsylvania.
Located in Chicago, Illinois, Straight North makes every click count for its customers. Being one of the best local SEO agencies, the company's services include link building, content creation and proprietary reporting. Straight North has been featured in Inc. magazine and UpCity. This firm provides clients with expert and customized SEO services.
Boostability is located in Lehi, Utah. Being a top local SEO business, Boostability provides a range of services in website content, mobile web design, search engine optimization and local search marketing. As an additional level of customer support, Boostability provides clients with access to Boost University. This service offers webinars, training and tutorials for clients.
10 Best SEO consists of team members who have provided marketing services for INC 500 companies. As a top ranking directory for internet SEO companies, 10 Best SEO works diligently to rank customers using unbiased methods. Other top awards that are presented to companies by 10 Best SEO include SEO Experts, SEO PR, Global SEO, Enterprise SEO, SMM Agency and Local SEO.
For more information about the award winners for this month, please visit http://www.10bestseo.com.