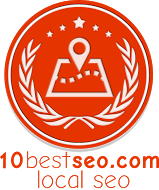 MESA, Arizona (PRWEB) July 27, 2015
10 Best SEO is an acclaimed website that diligently assesses and awards the best local SEO agency choices that are presently available to potential clients.
The premier local search engine optimization business selection was Digital Current. SEO stands for "search engine optimization." Digital Current is a Mesa, Arizona SEO agency that assists clients in fulfilling their local Internet marketing needs. They help their clients create smart and relevant SEO content for their business websites. The primary objective at Digital Current is to make sure their clients gain traction on the Internet.
10 Best SEO chose local SEO agency WebpageFX in Philadelphia, Pennsylvania to fill the second place spot on their list. People who are looking for accurate and efficient assistance are sure to appreciate the work offered by WebpageFX. The company's staff works hard to boost conversion rates for their clients. They also work hard to improve their overall Internet power. WebpageFX has assisted many diverse clients in raising their Internet visibility and ultimately boosting their profits. Internet reputation management, keyword assessment and link building are just a few examples of the company's diligent and effective SEO practices.
Boostability in Lehi, Utah is in third place on 10 Best SEO's list of best local SEO agencies. Boostability has collaborated with a vast range of different clients. Some of their clients have been brand new startup organizations while others have been prominent, established and highly recognized companies in their areas. Some of the agency's specialties include map optimization and SEO practices that are effective for local searches and small businesses in general.
The rest of 10 Best Design's illustrious list includes Forix Web Design in Portland, Oregon; EIGHT25MEDIA in San Francisco, California; SEOValley in Chicago, Illinois; SearchRPM in Austin, Texas; SEO Image in New York, New York; SEO Agency in New York, New York;and Straight North in Chicago, Illinois. All of these established SEO firms aim to aid all of their clients in increasing traffic to their business websites and ultimately increasing overall profits. These types of companies gather keywords that are sure to help their clients locate the exact types of potential clients looking for them. Their main objective is generally to help their clients stand out on the Internet where there are always many other similar firms.