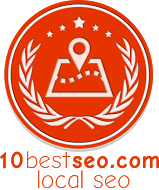 San Francisco, California (PRWEB) March 25, 2015
Recently, 10 Best SEO released its top 10 list of best local SEO agencies. The list includes well-deserving firms that were recognized for the honor, including leading agencies located nationwide. Some of the top competitors in the listing include Think Big Sites, WebpageFX and Boostability.
As part of its evaluation process, 10 Best SEO ranks online marketing firms in their directory using an algorithm that they have created. The algorithm includes client research, online research, reviews, previous accolades, traffic and other SEO rankings. All of these factors have qualified them for the Best Local Search Engine Optimization Agency list. Each of the following 10 firms ranked below were honored as the best local SEO agency by 10 Best SEO.
No. 1: Think Big Sites - Think Big Sites focuses on national and local search engine optimization. As a best local SEO firm, Think Big Sites also offers PPC services and web design for clients. The firm has a proven track record of making custom solutions for each business they work with. They are located in Huntington, New York.
No. 2: Webpage FX – This firm provides internet marketing solutions as part of its efforts to serve as a leading local search engine optimization agency. Webpage FX has three main focuses: revenue growth, creative design, and UX and E-commerce. They strongly believe in taking a client-focused approach. The agency is located in Philadelphia, Pennsylvania.
No. 3: Boostability – Like many of its competitors, Boostability thrives on being a local search engine optimization expert. Boostability knows that each business they work with needs to be in front of the right customers in order to achieve success. They encourage all potential clients to seek a consultation with them to see what their individual needs are. This firm is based out of Lehi, Utah.
No. 4: Digital Current - This firm can be found in Mesa, Arizona. They are strictly results based and want to make sure each of their clients are reaching their full potential. They do this by creating a solid foundation to start with and then branch out from there.
No. 5: SEO Valley - This Chicago firm focuses on what many business owners are seeking most. They expand and grow businesses. The firm has international offices in India, United Kingdom and Australia to reach all different types of businesses.
No. 6: Search RPM - This Austin, Texas firm builds brands online for their clients. The three aspects of the campaigns they create are design, measure and evolve. They don't just build links that will supposedly increase search engine ranking.
No. 7: Captain Marketing - Captain Marketing encourages businesses to try using their service by not forcing them to sign a contract. They also strive to give their customers the best prices for the services they offer. The firm offers result-driven SEO, smart social media, conversation-focused pay-per-click, mobile friendly website, export content services and effective marketing for each specific industry.
No. 8: SEO Image - This New York City firm specializes in SEO, pay-per-click, social media and reputation management services. They believe that just being on the top of a search engine is not enough to be a sustainable brand. SEO Image also has tools that clients can use on their website.
No. 9: Pravada Media - Also located in New York City, Pravada Media has some additional services to offer besides SEO. They provide affordable and effective Google SEO for their clients. However, they also offer printing, promotional products, graphic and web design.
No. 10: SEO.Agency - The three main services they offer to clients are SEO, reputation management and social media. Their goal is for clients to see a ROI for their business. Customers of SEO.Agency can see results in as little as one month. This firm is also located in New York City.