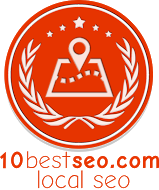 MESA, Ariz. (PRWEB) November 23, 2015
10 Best SEO, a service that routinely honors the best local SEO agencies, recently selected its November 2015 winners of the Best Local Search Engine Optimization (SEO) Agency Award. SEO refers to the practice of increasing a website's ranking on the local search engine for keywords that are relevant to a business. Websites that adhere to the best SEO practices are ranked by the search engines for different keywords. A local SEO agency can assist a business by improving its presence on the search engine, thereby driving a large portion of relevant traffic that is looking for the products and services offered by a business.
With SEO becoming more and more competitive, it is getting very complicated for businesses to dominate the local search rankings without the assistance of reputable local SEO agencies. 10 Best SEO employs a number of metrics to evaluate advertising agencies for top local SEO results. 10 Best SEO assists businesses in finding the right agency to work with by issuing awards in this niche on a monthly basis.
According to 10 Best SEO, the best local SEO agency award goes to Digital Current out of Mesa, Arizona. As premium local online marketing firm, Digital Current employs powerful and tested marketing tactics to help clients gain mileage from Web traffic. The agency has consistently optimized Web presence of businesses through organic SEO, improving their ranking in local search results.
Leading local SEO agency WebpageFX is another top online marketing firm known to deliver reliable local SEO services. The digital agency specializes in inbound marketing and performs routine SEO audits to convert traffic from search engines. The advertising agency offers paid marketing services, along with organic SEO. The company also offers reputation management services that are crucial for maintaining a sound reputation on the Web.
Boostability is also among the top local SEO agencies to be listed in the 10 Best SEO agencies for local search. The agency is one of the pioneers in digital marketing and adopts a creative approach to search engine optimization. Boostability is a reputable agency that employs ethical practices to increase a website's ranking for local search results on Google, Yahoo and Bing. It also integrates businesses with local search tools, such as Google Maps, which are increasingly being used by customers to look for businesses in their local area.