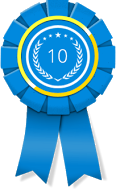 NEW YORK, N.Y. (PRWEB) September 29, 2017
10 Best Design recently presented the winners of its Best Magento Web Design Firm awards for September 2017, selecting Blue Fountain Media as the leader in this category.
10 Best Design understands how important Magento web design firms are to the industry. These companies provide services that affect the way visitors interact with websites and the entire user experience.
To celebrate the efforts of Magento web design firms, 10 Best Design has developed the Best Magento Web Design Firm Award. This is a new monthly award that will be presented to three new recipients each month.
The first three recipients of this monthly award have made a strong impact on the web design industry. The top Magento website design agency is Blue Fountain Media. The Magento web design second-place award recipient is Big Drop Inc. And the third-place honor is presented to Forix Web Design.
Blue Fountain Media continues to demonstrate a spirit of excellence in the Magento design industry. That is why it leads the list of top Magento website design agencies. From customer service to web design, this company is a proven industry leader. Located in New York, Blue Fountain Media has created web design services for Service King Collision Repairs, AOL and Anytime Fitness. Services provided by Blue Fountain Media include consulting, branding, design, digital marketing and mobile app development.
Another top Magento web design firm is Big Drop Inc. The team members at Big Drop Inc are constantly pushing boundaries and taking their services to the next level. Headquartered in New York City, this company has developed a strong web presence for companies, including Sky Buds and Sevva Home Luxuries. Big Drop Inc creates animated marketing videos as well as provides branding, marketing and design services for its clients.
Leading web design firm Forix Web Design offers big city style in the heart of Portland, Ore. With over 100 team members employed by the company, this web design agency has successfully launched approximately 750 websites since its inception. Forix clients include Ergo, Fisherman's Marine and Next Adventure. Forix has earned more than 60 Magento 2 certifications.
10 Best Design uses a highly selective process to determine the recipients of the awards. Qualitative and quantitative ranking criteria include website traffic, accolades, client research, online research and proprietary analytics. To be considered for an award, applicants were required to submit an application to 10 Best Design.
For more information about winners in this category, visit http://www.10bestdesign.com.