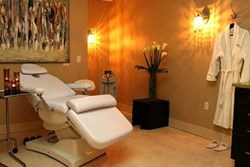 San Francisco, CA (PRWEB) August 29, 2013
SpaHub.com, the largest online spa directory, knows that getting the best experience at the best spas takes some research. Especially when it comes to choosing the best medical spa. It's crucial to find a venue that up-to-date with the latest equipment and overseen by a licensed physician.
Here are Spahub.com's top recommendations of questions to ask and consider before making an appointment at a medical spa:
1. Is there a doctor on staff? Could I talk to him/her?
All good medi-spas will be directed by a licensed physician. For specific procedures and better care, try finding a spa that has a doctor on site.
2. What kind of training has the staff received?
Make sure that the staff at the spa is specialized in the treatments they perform. Ideally, they should have multiple certifications and many years of experience.
3. Who will be performing my treatment?
Make sure to find out who will be doing the treatment on the day of the treatment. Talk to them beforehand and you'll be able to get a good feel whether or not they know what they're doing.
4. How many lasers do you have on site? When were they made?
There are multiple lasers available for cosmetic use, and each has a different ideal purpose depending on size and strength. Lasers should be relatively new (within the last 5 years), because technology has dramatically changed in recent years…and for good reason.
5. Do you have before and after pictures I could see?
Not all spas may have this, but it's good to ask anyway. If not, ask about other client testimonials to get an idea of the spa's reputation.
6. What service would you recommend for me problem?
It's always good to get an idea of what the doctor/spa staff may recommend for certain, specific needs. Just be wary of anyone who won't answer any questions about treatments.
7. May have I have a tour of your facilities?
Always ask for a tour of the facility before you commit to getting a treatment done there. The spa should be clean and comfortable feeling throughout.
If a spa can provide good answers to all of the questions above, chances are it's a legitimate medical spa that will provide the best quality care and service.
About Spahub
Spahub's mission is to create the largest Day, Medical and Getaway Spa Directory in the world. They strive to make the site a comprehensive place to learn about the different services spas provide. The goal is to provide every visitor an effective tool to quickly locate and explore a spa's amenities before taking one step out the door.