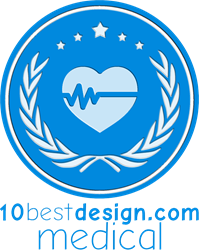 Carlsbad, California (PRWEB) March 23, 2015
10 Best Design has released its latest selections for what it considers to be the best medical web design firms in the industry. The top three web development firms to be recognized by 10 Best Design are Nuanced Media, Gravitate Design and Aesthetic Brand Marketing.
10 Best Design regularly gives out a series of awards to companies that work in various categories of web design. The recent awards for the top 10 medical web design firms continue the tradition that 10 Best Design has established to honor the industry's best service providers. The following is a brief description of the top three firms on this list.
Considered to be the Best Medical Web Design Firm is Tucson, Arizona-based Nuanced Media. This leading medical web development firm is grounded in attention to detail, copious research, creativity, and close relationships with clients. They employ designers, developers, and writers who pay attention to the current technological trends and do everything they can to make their clients stand out. They pay attention to what is working with their clients' websites and what is not, so that they can make the appropriate adjustments. They work with a combination of online marketing campaigns, web design, branding, and strategy and educate their clients on all of the relevant principles while helping them grow and thrive among the competition.
Second on the list of top medical web design companies is Gravitate Design, located in Vancouver, Washington. This web development firm puts together attractive and intuitive website designs for businesses in a variety of industries. One of their main priorities is web design for different medical sites. Therefore, they offer a variety of services to companies looking for such, including creating marketing strategies, coming up with top notch designs, and maintaining websites over the long term. A key service they provide is incorporating social media into the client's strategy.
The third-place contender for Leading Medical Web Development Company is Aesthetic Brand Marketing. This top-tier medical web design firm, which is based in Carlsbad, California, is a marketing and web design agency that works for the elective healthcare division. This company has won multiple awards, making it suitable for the arena of health care, which is very competitive. The goal of this company is to make sure that their clients' organizations thrive and gain new customers. The experts at this company know how to make their clients the dominant organizations in their respective areas, as their work is very well respected among different groups of medical professionals, including plastic surgeons, dermatologists, and more. The company's founder lectures at medical conferences throughout the year and is heavily involved in the health care community.