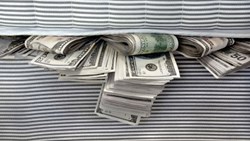 Omaha, NE (PRWEB) September 14, 2013
Memory foam mattresses continue gaining popularity with shoppers, but since their features vary significantly from the common spring mattress, getting the best deal can be a challenge for many. Between knowing objective measures of quality and how to compare between different brands, consumers must wade through much confusing information.
Sleep Junkie's latest guide sets out to simplify memory foam mattress shopping by explaining the various factors involved in quality and comfort for this mattress type. The article, "Get the Best Memory Foam Mattress for the Money," covers the ten most important aspects of shopping for memory foam beds and also offers a sample comparison to illustrate.
The subjects covered in the article include memory foam types, density, firmness, layer thickness, responsiveness and viscosity, heat and odor, covers, personal preferences, warranties, and sales. Each subject is explained in a detailed yet concise and understandable format.
Some of the most important points for people unfamiliar with the mattress type include how high and low density memory foams differ, how firmness is measured in memory foam beds, differences between temperature sensitive and temperature neutral foams, and how different types of foams perform in regards to responsiveness, heat and odor.
Aspects regarding comparison shopping include the importance of looking at the layers within memory foam mattresses and their respective features, basic information on mattress covers, and how individual preferences like sleep and body type relate to mattress choice. The last two topics cover the basics of mattress warranties and trial periods and tips for getting the best price.
To conclude the article, Sleep Junkie presents a detailed comparison table of six memory foam brands: Amerisleep, a plant based memory foam brand; Simmons Curv and Tempurpedic, traditional memory foam lines; and Novaform, Sealy Optimum, and Serta iComfort, which use traditional and gel memory foams.
In the chart, Sleep Junkie compares the lines in detail on seventeen different factors including owner ratings to highlight potential differences in value based consumers' preferences. Those considering shopping for a new mattress or curious to see how brands compare will likely find the article a worthwhile read. The website also hosts guides on other mattress types and various sleep topics as well.
SleepJunkie.org is a blog dedicated to all things sleep, from mattresses, bedding, to sleep research and more. With a focus on making mattress research easier, the website offers independent assessments and reviews of the latest brands and technologies. Readers also enjoy timely updates on mattress-related news and expert help in selecting the best mattress to fit their needs and lifestyle.