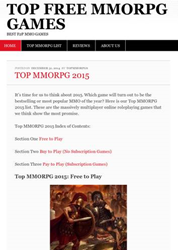 We found the best and created our top list
Los Angeles, California (PRWEB) January 29, 2015
TopFreeMMORPG.net, a leading games website, announces the launch of its highly anticipated Best MMORPG 2015 list. This annual website feature was originally dedicated to free games only, but this year the top MMO list has been improved and broadened to include buy to play and pay to play MMORPG titles. The criteria for inclusion in any of the three lists is the same: great gameplay, awesome graphics, and a friendly player community.
The complete list can be found at http://topfreemmorpg.net/top-mmorpg-2015/
"These days free to play is overwhelmingly popular compared to the other types of massively multiplayer online role-playing games. Naturally, we decided to focus on that by trying out dozens and dozens of free MMORPGs. We found the best and created our top list. However, to our surprise, in recent years there has been a resurgence of subscription MMORPGs. A few new buy to play games have also been launched. That's why we thought of expanding our reach to include these types of MMOs," said editor Markus Fournier.
Free to play (f2p) MMORPGs are those that are free to download and play. Pay to play (p2p) games are the opposite: players must buy the game to download or install it, and they also have to pay a monthly subscription fee to continue playing. Buy to play games, on the other hand, must be purchased but there is no monthly membership fee needed.
"We have taken pains to cover all the bases when it comes to our Best MMORPG 2015 list. People will be able to find many different types of MMORPGs and it's also very organized, with each category clearly marked," said Fournier.
Currently, eight existing MMO games are featured along with ten upcoming titles that are still under development.
For more information, visit the website at topfreemmorpg.net.
About TopFreeMMORPG.net
TopFreeMMORPG.net delivers online MMORPG reviews and opinion articles through its dedicated and skilled team of writers who provide insight, assistance, guides, game play reviews, videos, commentaries, and a friendly community. An innovator in the field of MMO games writing, TopFreeMMORPG.net is always looking for new and better ways to deliver content.