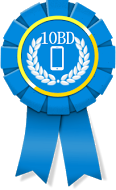 SAN FRANCISCO, Calif. (PRWEB) October 24, 2016
10 Best App is proud to announce the October 2016 awards for the Best Mobile App category. The principle winner in this category is Mint, followed by HealthTap and Fitbit.
Mobile apps are going to be one of the most commonly used platforms of the future, and advertisers are already seeing the benefits of working with mobile apps in order to bring new content to people faster and with more targeted processes. Apps are able to make just about any aspect of life easier, and there are tons of apps out there that offer similar or even identical services. The best mobile apps might be difficult to discern from the crowd, but 10 Best App hopes to change that in the future.
10 Best App has started a new monthly ranking system that weighs the benefits of top-tier apps in order to rank them. The new list will be released at the start of every month to keep users on track with the ever-changing marketplace. The top 10 winners for the month of October have already been chosen and announced, and the top three are listed below. The remaining winners are listed here.
According to 10 Best App, Mint is the best mobile app for October 2016. Mint is a world-class financial consultation and organization app that comes from the same developers of the tax software TurboTax and the bookkeeping software Quicken. The app has earned the distinction of the best mobile app for the month of October, and it has the ability to concisely keep track of all financial dealings. It is also completely free.
HealthTap ranked second on this month's list of best cellphone programs for the month of October in 2016 is HealthTap. HealthTap works by connecting users with doctors who can help diagnose any potential problems from the comfort of their own homes. This helps patients who would rather avoid making multiple costly trips to the hospital for routine questions or tests. Doctors can suggest if a trip to the hospital is necessary.
Another top mobile app, Fitbit, is the third-place winner for October. It is one of the most popular apps in the health application industry. The app has numerous pieces of Fitbit hardware that can function with the software, and it is able to accurately measure calories burned, steps taken, heart rate, breathing rate, and much more. The Fitbit app also includes a GPS tracking feature that works with multiple GPS systems, including one built in to a specific Fitbit wristband.
For more information about the October award winners, please visit http://www.10bestapp.com.