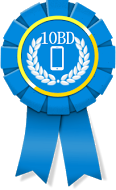 SAN FRANCISCO, Calif. (PRWEB) January 23, 2017
10 Best App recently selected the winners of its Best Mobile App awards for January 2017, giving Mint the top prize.
A lot of factors were taken into consideration when choosing the best mobile app on the market. Many of the most popular applications these days are in relation to personal finance, fitness and health tracking. This award was newly released and the list of leading applications are updated monthly.
The top contender on the list of best phone apps is Mint, a personal finance application for mobile phones. Their users can set monthly budgets and keep track of spending by inputting their daily expenses. The app also has the ability to be synced with bank accounts to keep track of payments and transactions. The applications will also send notifications if there are payments due.
Another top mobile app is Health Tap, an application that allows users to receive advice from real doctors online. Users may send their symptoms to the doctors and they may advise them if going to the hospital is necessary of if treatment at home is viable. They may also submit previous lab tests and other medical records to be reviewed by the doctors. The app will also allow users to keep track of medication or daily routines to improve their medical condition. All of the doctors on the application are guaranteed to be certified medical doctors from around the globe.
Fitbit is a leading phone app that is an extremely popular fitness tracking application that is found on the App Store and Play Store. The application connects users to their own fitness tracking devices in order to help them keep track of their health from their phones. The mobile application is able to keep track of the distance ran, calories burned, calorie intake and the number of steps taken. The application also has the ability to keep track of how well a user is sleeping. Fitness can be greatly decreased if people sleep too few hours or there are breathing issues during sleep. The application may set bedtime reminders to make sure users go to bed on time and to wake up for their morning routine.
All of the applications that are at the top of this month's listing take into account their market share as well as their reviews online. Users should download each application to try them out to make their own decision on what is the best application for their own needs.
For more information about the award winners in this category, visit http://www.10bestapp.com.