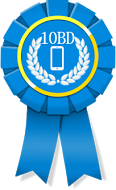 SAN FRANCISCO, Calif. (PRWEB) December 13, 2016
10 Best App is pleased to announce the winners of its Best Mobile Games awards for December 2016, with Dark Echo assuming the top spot.
This award is noteworthy due to its relevance to the industry. Mobile games are the future of entertainment, and the market is already starting to see a shift toward mobile platforms and away from older video game platforms. Even many of the standard consoles are falling to the wayside in response to the number of amazing mobile games on the market. But with so many games out there and with it being so easy to create subpar content, how can players know which games they should try out? Some games might be nothing but a waste of time and space on a mobile device, but others might be purely amazing.
10 Best App has started releasing a monthly ranking of the best mobile games available on multiple platforms. Their lists include the best iPhone games and the best Android games, and many of the games are accessible on both platforms. 10 Best App has already announced which games are the top 10 winners for the month of December, and that list can be viewed online. The top three winners are described in brief detail below.
Dark Echo, the best in mobile games, takes the standard approach to gaming and turns it on its head. Instead of seeing the visual world of the game, players can only see and hear sound waves. Players can search for monsters, doors, and treasures through the dark system using only sound to guide them as they progress. The game is available on iOS and Android as well as through Amazon Apps.
Shadowmatic also was recognized as one of the top mobile games. It is a puzzle game that uses amazing 3D visuals to create a stunning environment. Players work to reorganize objects within the game to cast shadows, and those shadows have to take recognizable shapes for the player to advance through more than 100 levels. With a total of 12 game environments throughout the levels, this game is both engaging and relaxing.
Monument Valley, a leading iPhone game, is so stunning that many players have said the game is more like a work of art than a piece of interactive entertainment. This game is a puzzle-based system that uses a strange environment with rotating backgrounds and no literal up or down. Much like a painting from M.C. Escher, Monument Valley will leave players delightfully confused.
For more information about the winning companies, visit http://www.10bestapp.com.