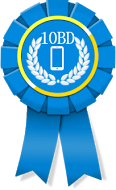 SAN FRANCISCO, Calif. (PRWEB) February 17, 2016
10 Best App is excited to release rankings for its new category listing: Best Mobile Games. The top winner in the category is Dark Echo.
10 Best App is a website that has its finger on the pulse when it comes to scouting out the best new mobile apps in every category, from gaming to health to finance. Anyone is eligible to submit their app in the hopes of making it on the Top 10 list, and all apps are fairly rated by design and technology experts. What's more, winning this distinction is good for more than bragging rights. The winners get their app signal boosted all over Best 10 App's social media, and the constant traffic to the site means a lot of new publicity. 10 Best App is especially focused on the best mobile games on the market today.
Dark Echo, an artistic, minimalist horror game, is currently the #1 Best Game listed. 10 Best App promotes the game by giving it a big magazine-spread-like headline, with a large photo and a summary of the game, and it even gets its own separate page. This is also true for other honorary games on the 10 Best App list of the best mobile games.
Ranking #2 on the list of top mobile games is Shadowmatic. This is a puzzle game in which the player manipulates shapes to create interesting shadows. The game, which focuses on a collection of floating objects, won the prestigious 2015 Apple Design Award.
Monument Valley, an isometric puzzle game featuring a princess and castle, landed at #3 on 10 Best App's list. Monument Valley is a top mobile game that allows the player to guide Princess Ida through a series of mazes and optical illusions.
These award-winning best mobile games have been selected as the cream of the crop through the keen judgment of the 10 Best App team. From their great art direction to their appealingly unique ideas and puzzles, these games are rare indie treats brought into the limelight by the 10 Best App website. Again, it isn't just games that 10 Best App will help launch to fame. For other app categories, the team will consider both style and function to determine which apps are of the greatest benefit to users. 10 Best App's mission is to create a win-win scenario. An awesome new app gets broadcasted and circulated, bringing well-deserved praise to the creators, and the Best 10 App followers receive select knowledge of some of the coolest apps available.
For more information, visit http://www.10bestapp.com.