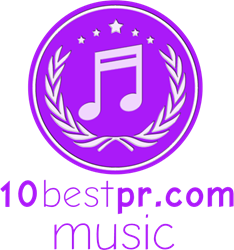 NEW YORK, NY (PRWEB) July 22, 2015
10 Best PR, a prominent awards website that routinely assesses and ranks some of the finest public relations firms in the field, recently rated its best music PR firm choices. 10 Best PR has selected several exemplary music public relations companies, along with nine other highly reputable options. The top picks are Nasty Little Man, Spritz SF and Cyber.
The talented and experienced entertainment publicists at Nasty Little Man in New York, New York have helped the full-service agency land the coveted number one spot on 10 Best PR's list. This top music public relations agency has represented a wide range of rock and indie rock musical acts, with legendary examples such as Beck, Foo Fighters, Smashing Pumpkins and Beastie Boys.
Spritz SF, a top music PR firm based in San Francisco, California, earned the second slot on 10 Best PR's list. Although Spritz SF's main office is in the "City by the Bay," the interactive marketing company maintains another office in India. The client roster at Spritz SF is in no way limited to just the music world, as the agency also represents restaurants and non-profit organizations, to name a couple examples.
Cyber in Brooklyn, New York is number three on 10 Best PR's highly respected list of best music PR agencies. Cyber strives to aid musical acts in boosting the recognition factors of their music. They use in-depth promotional practices to help their clients break through and get the attention they deserve. Cyber blends classic public relations techniques with more modern styles to aid their clients in making a splash on the music scene. The agency has helped many of its clients secure deals with powerful music industry professionals.
The rest of 10 Best PR's list includes highly regarded public relations companies such as Allison in Chicago, Illinois; A&M Entertainment in Los Angeles California; Much & House in Los Angeles, California; Green Light Go in Ferndale, Michigan; Spark in San Francisco, California; Grayling in New York, New York; and, last but certainly not least, Team Clermont in Athens, Georgia. The top goal at all of these illustrious publicity firms is to aid their clients in gaining attention from influential industry professionals and brand new fans alike. These companies are all different sizes. While some of them are on the smaller side, others are significantly larger with many staff members.