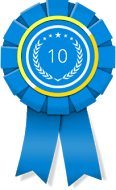 SAUSALITO, CA (PRWEB) April 26, 2017
10 Best Design is pleased to announce a new award category: Best Naming Agency. The top winner for the award is Lexicon, followed by Tanj and Bluetext.
Lexicon, Tanj and Bluetext are all industry leaders who are well-deserving of the Best Naming Agency award. The award not only highlights their expertise, but it makes it easier for other companies to connect with their professional services.
Lexicon is as a leading naming agency located in Sausalito, Calif. The professionals at Lexicon are passionate about helping clients select a top-notch name that will attract attention and accelerate the brand recognition process. The company employs more than 20 bright professionals who excel in offering clients the cutting-edge knowledge and services necessary to help them select a brand-building name. They are also pleased to offer clients several other services, including trademark evaluations and platform assistance. The company's techies are pleased to have successfully completed more than 2,500 projects within categories including but not limited to innovative technology and beverages.
Located in New York City, Tanj represents a team of dedicated, dynamic branding experts who offer clients all of the services necessary to promote company success. Being one of the top naming agencies in the business, Tanj has extensive experience in the branding sector. Therefore, the company understands that the strategic use of language is key to helping business owners connect and convert the target market. Whether the business owner is interested in developing the ideal brand name, telling a compelling story that will captivate the audience, or achieving some other brand-building objective, the professionals of Tanj possess the knowledge and experience necessary to make it happen.
Based in Washington, DC, Bluetext is a dynamic community of naming experts who offer clients customized, creative services that work. As a top naming company, Bluetext has a history of working with a wide range of clients. This includes business owners who lead global corporations as well as start-ups. Business owners seek out the services of Bluetext professionals because they utilize top-notch marketing techniques that will help clients connect with their target audience in a dynamic way that leads to conversion while also increasing the likelihood of repeat conversion.
For more information about the winning firms, visit http://www.10bestdesign.com.