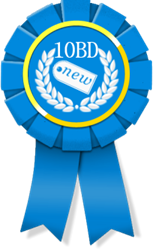 San Francisco, California (PRWEB) March 24, 2014
With high honors in regards to amazing web design processes, 10 Best Design named its Best New Web Design Firms for March 2014. This award category is not for agencies new to the business; rather, it's to recognize the top 10 design firms new to the 10BD, a comprehensive reputable list of the best web firms on the planet. This category is just one of the many design-centric rankings 10 Best gives out to reward excellence.
Standing out above the rest for proven superiority in the web design space, 10 Best awarded first place to Blue Fountain Media out of NYC, followed in second place by Skookum of Charlotte, NC, and in third place by Night Owl Interactive out of NYC. Numbers four through 10 include Avex, Elevated Third, Ironpaper, AshWebStudio, Back 40 Design, Digimix and Gaslamp Media, respectively.
To come up with these rankings, 10 Best Design weighs several variables ranging from ratings to price to ability to meet deadlines. Blue Fountain Media rose above the rest as an innovative agency that caters to any business, large or small, from fledgling start-ups to established Fortune 1000 firms. It offers services like copywriting, SEO, PPC, business analysis and consulting, information architecture, responsive web design and content strategy.
Skookum is a firm that has proven itself in its eight years in business as one that can provide a balanced mix of progressive open source systems as well as enterprise software along with the latest advancements in hardware. Touting skills in business, technology and design, this team tackles a realm of industries, from education to finance.
Night Owl Interactive is made up of a team of designers, developers and strategists offering its clients multidisciplinary services such as design, e-commerce, business intelligence, marketing and support, and phone and tablet. It utilizes technologies ranging from PHP and Java to MySQL and Python in its quest to create masterful, visual web designs that have both aesthetic appeal and function.
10 Best Design is the industry leader when it comes to ranking the top companies across the planet that get high marks for successful, compelling web design and comprehensive web development for a wide range of clients. What sets these companies apart from others is their ability to exceed client expectations, meet stringent deadlines, engage in open and collaborative communication, and get results for clients looking to attract new customers through a stunning yet functional design approach.