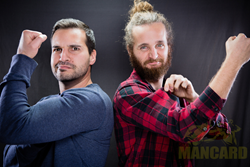 Mancard the Show is a reality comedy, challenge and prank show - a play-through of extreme challenges as Adam and David battle to be number one!
Atlanta, Georgia (PRWEB) February 13, 2017
Mancard the Show is a new reality, comedy-challenge program that has hit the YouTube circuit This brand new episodic adventure challenges two friends, David Wylie and Adam Slemon, to various tasks in order to prove which of the two has truly proven their masculinity.
The tasks have been created to test their skills and knowledge in various areas, such as engineering and construction, stealth and weapons knowledge, as well as who has more of an iron stomach.
Each episode features one of these tasks, with a winner determined by the end. In addition to watching the two trying to conquer the challenge, viewers are also treated to fun commentary and anecdotes that give a great comedic aspect to the show.
The first episode, available now on YouTube, has David and Adam each constructing a siege engine in order to knock down a tower of rocks.
Each man chooses to construct something different, and it's really fun and funny to watch and see what each one chooses, as well as their skills, or lack thereof, when it comes to the actual construction of the device.
Clearly, neither one of them is an expert in the construction field, and have a limited knowledge of engineering, but both manage to make a fairly impressive attempt.
Tune in and find out who makes what, and who is victorious. If this first episode is any indication as to what the series will be like, Mancard the Show is off to a great start. It features all the humor viewers want in a reality show without being too long where viewers get bored waiting for the conclusion, and just long enough to make viewers want more.
It's clearly not scripted; Adam and David have excellent on screen chemistry, backgrounds in improv and are perfectly cast for this role as they are real-life friends.
All of their reactions and humor is genuine and some of the stuff that they do and that happens just can't be predicted. Perhaps what is most appealing about Mancard the Show is the production quality of the program. There is an excellent intro that is better than most shows you find on television, and the editing and filming are top notch as well.
This is clearly a show to watch and subscribe too, and one viewers can watch over and over again.